QPHS join Young Chamber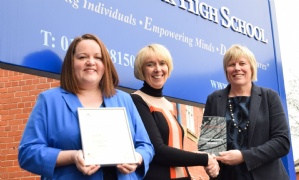 We are delighted to announce that Queen's Park High School have been welcomed by the Chamber of Commerce as the latest school to join their Young Chamber Programme.
Since the programme launch in November 2017, Young Chamber have increased their cohort of schools to 12, and have incredibly nearly 90 sponsors, taking part in a range of educational activity days and skills building exercises!
Speaking on the new partnership, Andrea Watts, Careers Lead at QPHS commented:
"This opportunity will provide our students with access to the knowledge, skills and experiences that local businesses can provide for them to succeed in the world of work. We are looking forward to developing a strong partnership in order to plan and deliver a wide range of events and activities which will bridge the gap between the education sector and the business world."
Young Chamber provides a range of different ways in which our Chamber can help schools and colleges tap into the knowledge, skills and experience that local businesses can provide students to help them succeed in the world of work. The programme has no cost to join for our schools and colleges and can help sponsors to meet Corporate Social Responsibility requirements, as well as offering the opportunity to take students on work placements that could potentially lead to future employment opportunities.
"We are incredibly lucky to be part of quite a unique setting here in Chester in terms of lifelong learning and employment. As we inspire and nurture the talents of our young people through this educational journey, it is also vitally important that we then open their eyes to the wealth of opportunities which equally exist around them in terms of their future employment. I would like to thank the WCNW Chamber of Commerce for their friendly welcome to the Young Chamber Programme and for all the benefits that this will bring for our students."

Lyndsay Watterson, Headteacher
Debbie Bryce, Chief Executive Officer at the WCNW Chamber of Commerce said:
"It's fantastic to welcome Queen's Park High School to our Young Chamber programme. As we continue to welcome on board more sponsors to the programme, we couldn't be better equipped with the skills needed to support the students partaking in the programme through our projects, interview days, careers fairs and much more!"
On Thursday 10th January, CEO Debbie Bryce at the West Cheshire & North Wales Chamber of Commerce presented Headteacher, Miss Watterson and Mrs Watts with a plaque and certificate, symbolising the school's commitment to work with the Chamber of Commerce.