Summer Sports Camp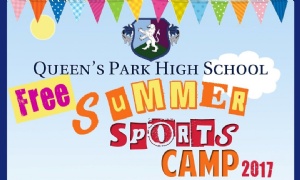 Queen's Park High School is offering a FREE Summer Sports camp for Year 4 & 5 children from Primary Schools in and around Chester.
The summer camp will run from 9.00am to 3.00pm Monday 21st August - Wednesday 23rd August and will be led by Queen's Park High School teaching staff.
As numbers are limited please secure your child's place by contacting Tel 01244 981500 or email Mrs Scanlon Transition Co-ordinator: Email: c.scanlon@qphs.co.uk.
Closing date for applications is Friday 21st July