NHS Careers Evening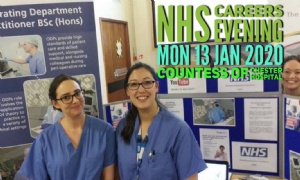 Find out all about the careers on offer in the NHS.
The Countess of Chester Hospital is proud to host a careers evening to promote the 350 different careers on offer in the NHS. The event is aimed at those aged 16+ who may be considering a career within the NHS, but are unsure which area is of most interest to them, or simply want more information and advice on their chosen path.
The event will be taking place on Monday 13th January 2020 from 5pm-7pm in the Education and Training Centre at the Countess of Chester Hospital. You can arrive at any time.
Please note there is no cost to attend this event and it is always extremely popular and fills up quickly, so make sure you secure your place and register now.