Careers in Cyber Security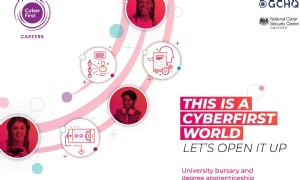 Want to be part of the next generation of cybersecurity specialists?
GCHQ is the UK's world-leading intelligence and cyber security agency with a mission to help keep the UK safe. CyberFirst was set up by the National Cyber Security Centre (NCSC), part of GCHQ (with one goal in mind: to open up the world of cyber security. Cyberfirst want to find diverse young minds from up and down the UK – not just coders but entrepreneurs, public speakers, analysts and more – who want to become the next generation of cyber security specialists.
Queen's Park High School has a link with a local provider of cybersecurity and coding skills-building in the form of Codenation (Chester).
Students that are interested in finding out more about potential opportunities should contact Mrs Watts at school or by email a.watts@qphs.co.uk and she will put you in touch with her contact via the Pledge Partnership.
Please open the attachments below for further information relating to careers in cybersecurity and GCHQ.