Network Rail Apprenticeships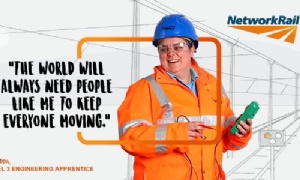 Network Rail is an incredible team of experts all working together to help millions of people get where they're going. Through training, mentoring and guidance, Network Rail support each other, keep each other safe and bring out the best in each another.
The Rail industry is currently going through one of the largest transformations we've ever seen. New opportunities are appearing every day and they are investing over £45 billion in the next five years to revolutionise our nation's railway system. It's an incredible time to start a career with them.
Start your journey today
The Level 3 Engineering Apprenticeship is a three-year programme which gives you all the support and training you need to take the first steps towards becoming a professional engineer. During this scheme you'll earn a competitive salary and get involved with important projects — gaining invaluable experience as you work towards a degree level qualification.
Once you've completed the course you'll have the option to continue your studies and move into specialist roles ranging from electrification and plant, overhead lines, signalling and telecoms.
When you become a part of their team, there's no limit to how far you can go. And there's never been a more exciting time to join Network Rail. They are growing every year, embracing new technology, pushing boundaries and challenging what's possible. So, if you'd like to learn, grow and make your mark on the future of transport, please get in touch with them.