NHS Open Day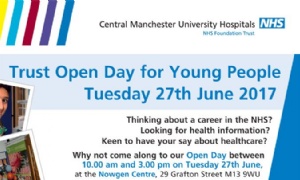 NHS Event for Young People – Tuesday 27th June 2017
This will be the eighth annual NHS Open Day for Young People.
As well as stands covering NHS careers ranging from Nursing and Midwifery, Physiotherapy, Cancer Care, Medical Photography, Medical Engineering, IT and many more, there will also be brand new stands for 2017. These include Children & Young People's Nursing Education, Radiology, Cardiac Physiology, Vascular and Urgent Care Medicine.
Popular interactive sessions this year include learning how to do CPR (basic resuscitation), accident prevention, using microscopes to identify cells, finding out more about diseases of the circulation, including veins and arteries and learning ways to beat the bugs that cause infections. Students can also participate in the popular activities provided by our Orthopaedic plastering team!
Delegates can also get plenty of information and advice about looking after their mental and emotional health, dental and eye care and healthy eating, as well as finding out about how to become a volunteer in our hospitals, join our Youth Forum and find out more about work experience opportunities.
Around 2,550 young people with their teachers, friends and parents have attended our event over the years, with feedback from previous schools, teachers and their pupils being very positive. You can see some great photos from the past events at: http://www.cmft.nhs.uk/foundation-trust/young-peoples-event.
The event runs from 10.00am - 3.00pm at the Nowgen Centre on Grafton Street, M13 9WU (next to Manchester Royal Infirmary).
Directions to the Nowgen Centre can be downloaded here
We are inviting groups of students to come for a morning or afternoon session, with each slot lasting up to an hour and a half. The event is very popular so we do allocate places on a first come, first served basis. Older students who have finished their exams are also very welcome to attend on an individual basis and/or with a parent.
We would be delighted if you would like to come along and join us - please contact Ryan Miller at Ryan.Miller@cmft.nhs.uk or call him on 0161 701 7587 if you are interested in attending.
For further information regarding this event, please open the attachment below.