Army Officer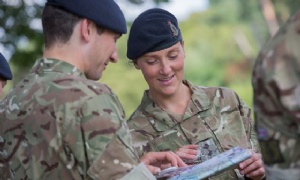 Discover an exceptional career . .
Become a British Army Officer and you'll have the responsibility of leading your team to help make the world a safer, better place. It's not easy to lead – but the rewards are exceptional, the challenge is incredible and there's no bigger adventure in life. There's nothing more rewarding than changing the world for the better, and no feeling more powerful than finding and fulfilling your purpose in life. This is why we lead.
Become a British Army Officer and you'll:
Earn a starting salary upwards of £31,000 (after training)
Receive subsided accommodation and facilities, increasing your disposable income
Receive free medical and dental health cover
Have continuous access to promotional opportunities in order to progress your career
Have the opportunity to earn valuable professional qualifications
Take part in adventurous training and be able to play your favourite sports
University isn't for everyone and there are a lot of Officer roles that don't require a degree. If you've got drive, determination and the will to make an impact, there's a place for you here. With these qualities in place, we can give you the training you need to go far.
From skiing in the Alps to white-water rafting in Colorado, you'll take part in adventurous training around the world, while earning a competitive salary and enjoying all the benefits that come with Army life, from sports and state-of-the-art training facilities to earning valuable professional qualifications.
We were all born to do great things. To overcome. To empower. To change. This is why we lead.
Find where you belong.