Duke of Edinburgh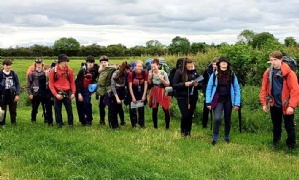 Congratulations to all the fearless Duke of Edinburgh's (DofE) Bronze participants who braved the elements to successfully complete their expedition training this month.
At the beginning of June, 25, Year 10 DofE students battled against the adverse weather conditions to complete their first Training Hike/Camp. The training started with map reading and route planning before students set off on a hike across the picturesque local countryside. The expedition pushed students to their limits, both physically and mentally; testing their teamwork, navigation and interpersonal skills within their groups. They navigated through forestry, fields, footpaths and towns to show their understanding of map reading and their developing orienteering skills.
During the practice expedition students planned and walked a route from Delamere Visitor Centre to the camp site near Brassy Green where they set up camp overnight and cooked an evening meal on a camp stove. The next day despite a waterlogged field, soaked tents and cold, wet clothes students navigated their way to Kelsall carrying all their weighty belongings in their gigantic rucksacks, a sure sign of their endurance!
In spite of the inclement weather, it didn't dampen the students' spirits and positive approach to the hike. They faced their challenges with grit and determination demonstrating excellent team work, camp craft and navigation skills throughout.
We are delighted to announce that all 25 students successfully passed their assessed expedition for the bronze award. We wish them the best of luck for their qualifying expedition in July.