Virtual Open Evening 2020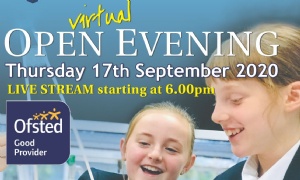 We are really excited to invite you to join us for our virtual Open Evening which will go live from 6pm on Thursday 17th September 2020. Unfortunately due to the pandemic and government guidance, we are unable host our normal Open Evening this year, so we hope you can join us for this online event in which you will still be able to meet our staff and students plus explore many of the engaging activities taking place in a range of subject areas around the school.
Please click on the link below to join our Virtual Open Evening today (Thursday 17th September) at 6pm
Headteacher, Miss Watterson and Senior Assistant Headteacher, Mrs Scanlon will be presenting live on Microsoft Teams to introduce the evening and welcome you to our school. During this live presentation Miss Watterson and Mrs Scanlon will respond to any questions you may have about the school.
Please send your questions to: openevening@qphs.co.uk
There will also be a series of short videos to introduce each subject area.
How to access the event:
Our virtual Open Evening will go live from 6pm on Thursday 17th September. On the day please visit this page when you will be able to access the live stream and video links. If you are using a smart phone, you will need to download the Microsoft Teams free app or access it on your computer to be able to watch the event.
How it works:
Click below to download Microsoft Teams from the Apple App Store or Google Play Store
If you are unable to join us on the night, don't worry we will also publish a recording of the live event for you to watch at your leisure.
We look forward to sharing a flavour of school life at Queen's Park High School with you and your family.