DIY Chester Santa Dash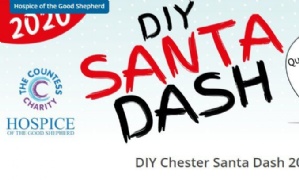 A fleet of Queen's Park High School Santas are set to race through the streets of Chester for their own DIY Charity Santa Dash!
Due to current restrictions this year's 10th Chester Santa Dash will be taking place throughout December in a very different format, but it won't deter our Queen's Park High School 'dashers'! The school are excited to organise their own DIY Santa Dash to raise money for the two great local charities, The Hospice of the Good Shepherd and Blue Skies Balcony Appeal at the Countess of Chester.
On Friday 4th December, Queen's Park High School staff and sixth-form students will be racing around a 5km course starting and finishing at the school. To be COVID compliant, rather than a dash, it's more likely to be a relay with Santas setting off at 30 second intervals.
The convoy of Queen's Park High School Santas will be heading out from school, across Edgar's Field, through the Dingle and up through Curzon Park to the railway bridge, before turning back through the racecourse, past Chester University Riverside campus, dashing through the Groves, across the suspension bridge, up through Queen's Park High School Rowing Club and back to school.
It's all for fun, but there may be a glass of sherry and a mince pie for the quickest Santa!
Please turn out to support us (at a sensible distance) and even better, we would love it if you could donate! Click on the link below to visit our money giving page:
We do hope you join in our festive fun as we attempt to spread a bit of seasonal cheer.