Sixth Form Virtual Open Event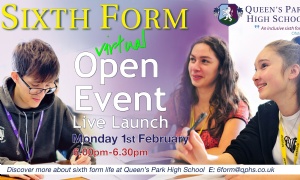 Join us for this LIVE online event and meet some of our Sixth Form students, Head of Sixth Form - Mrs Prydden, Headteacher - Miss Watterson and Assistant Headteacher - Mr Yeoman, as they provide an insight into Sixth Form life at Queen's Park High School.
We are really excited to invite current Year 10 and 11 students to join us for our Sixth Form Virtual Open Event which will go live from 6pm on Monday 1st February 2021 on YouTube. Unfortunately due to the pandemic and government guidance, we are unable host our normal Open Evening this year, so we hope you will join us for this online event in which you will still be able to meet our staff and Sixth Form students plus explore our Sixth Form's state of the art facilities, excellent range of Support Services, subject and course information to help you make your choice and range of engaging courses on offer.
You'll also be able to hear first-hand, from our students about what life and learning at Queen's Park Sixth Form is really like and have the opportunity to ask questions to our expert team at the end of the live session.
For further information and to access the link to the event please click below: