First in country for life-saving equipment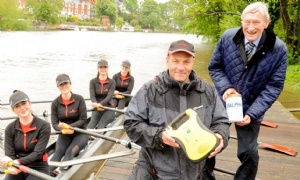 Chester is the first place in the country to benefit from the national charity RALPHH funding for more defibrillation equipment at key sporting locations.
A potentially life-saving defibrillator has been installed at the Boathouse of Queen's Park High School on the River Dee. The intention is that this will be available for use by members of the School's rowing club, as well as a neighbouring canoe club and the Scouts. Additionally, access in the case of any emergency will be possible for towpath users. The initiative has been made possible by a significant grant from RALPHH, as well as a donation organised by Cheshire West and Chester Councillors, Razia Daniels and Neil Sullivan, both of Handbridge Park Ward.
"We are delighted to have worked with Queen's Park High School to bring about a needed facility on an important stretch of the River Dee. Our life-saving purpose is to see more such defibrillators installed in locations where strenuous exercise may be undertaken. The benefits of exercise are considerable, but each year young people and others die from heart problems because the correct support equipment is not available to them."

Richard Allen RALPHH Chairman
Granted charitable status by The Charity Commission in August 2019, RALPHH has been inspired by the sudden death of Robert Allen, a much-respected junior rowing national champion. As well as looking to increase defibrillator availability, the charity is also keen to arrange ECG testing for young people potentially looking to start on strenuous sport, as well as providing advice for all ages on retiring from exhausting exercise. This information is available on the RALPHH website https://www.ra-lphh.org/
"On behalf of our students and rowing coaches in particular, I would like to say thank you to RALPHH and Cheshire West and Chester Council for their support in making this initiative possible. Our school rowing club has significantly grown in popularity over recent years and as the Covid-19 restrictions begin to lift, our crews will be visible once again, training on the stretch of the River Dee between The Groves and The Iron Bridge, Aldford. The defibrillator provides them with additional peace of mind when taking part in this strenuous but incredibly rewarding sport."

Miss Lyndsay Watterson, Queen's Park High School Headteacher
Donations to the work of RALPHH are welcome via the website and currently the trustees of the charity are working on initiatives across the whole of England and Wales that need support.