Summer Exhibition 2021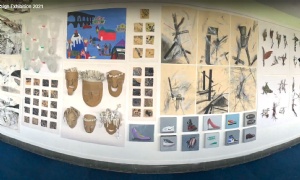 We have just released the premiere of our end of year virtual Art & Design Summer exhibition to celebrate creativity and the achievements of our students.
This virtual exhibition showcases a selection of 3D Design, Photography and Art & Design work created by students from years 7-13, during lockdown and over the past year.
Mr Parker said,
"I would like to take this heartfelt opportunity to thank Miss Watterson for her continual support of the Visual Art & Design Faculty, throughout her leadership here at Queen's Park High School. I am delighted that this year's exhibition continues to showcase the finest talent we have here in our school and this is testament to the commitment and hard work of both the art and design teachers and their students. More so, in these very exceptional times. Out of adversity comes creativity.

I hope you too can celebrate the selection of work on show created by students in KS3, KS4 and KS5. Enjoy watching..."
Having trouble viewing the video, please click on the link below: