Christmas Concert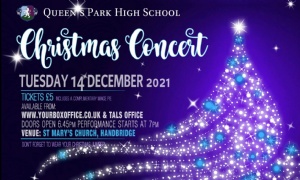 Feel the ambience and get into the festive spirit when you come and join us at a brand new venue to see our talented students perform in our School Christmas Concert on Tuesday 14th December 2021.
Thanks to the Reverend Dr Richard Whaite, we are absolutely thrilled to be able to share our Christmas celebrations from within the beautiful walls of St. Mary's Church in Handbridge. Doors open at 6.45pm and performance starts at 7pm. Tickets are now on sale at just £5 each, which includes a complimentary mince pie. We would encourage you to purchase tickets early for the event as there is limited seating inside the church. They can be purchased from our online box office page at www.yourboxoffice.co.uk or via the link below:
Whilst we are very much looking forward to celebrating Christmas and the musical talents of our students, we are also very conscious of the climate we are in and the potential risks associated with the pandemic. As always we will be monitoring the guidance released from the DfE and PHE around infection rates and approaches to mitigation to ensure that we are able to go ahead with this wonderful opportunity.
In the event that we are unable to go ahead with the event as planned, we are able to issue refunds but if possible we hope you'll be happy with us sending out a DVD and link to download the performance instead. Monies raised from the production will help provide further extra-curricular opportunities in the arts and will be supporting our PTAs fundraising efforts too.
We really hope to see you at St. Mary's on Tuesday 14th December; our students have auditioned and are now working hard on their performance to present to you on the night! Hopefully, we can have a much more normal Christmas this year and it would be lovely to count on your support and celebrate the talents of our students as a community.
Don't forget to wear your Christmas Jumper!