Cheshire Schools Media Challenge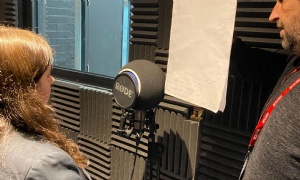 We are thrilled to announce that three Queen's Park High School Year 9 students have been selected as finalists in the Cheshire High Schools Hate Crime Media Challenge.
Over the last few months students across Cheshire have been studying the topic of hate crime and have demonstrated their knowledge by writing and producing podcasts and videos on the subject.
In November, 25 Year 9 students were given the opportunity to participate in an interactive digital workshop led by Collaborate Digital. Students were asked to imagine that they were influential YouTubers or Podcasters, and to use that influence to make a short podcast or video that would help spread the word to other young people about hate crime, that diversity is something to be positively recognised and why it's okay to be different.
The half-day workshop covered the most relevant and up-to-date facts about hate incidents, highlighting local case studies and the consequences for young people, their friends and family. Using critical thinking and creative writing, students were supported to prepare scripts and record their own podcast or video. This was then submitted to the Cheshire Schools Media Challenge, open to all high schools across Cheshire. All the students involved conducted themselves with maturity and sensitivity and fully unleashed their creative talents to produce some wonderful work.
We are thrilled to share the news that following judging, one of the podcasts created by Alfie, Jack and Charlie has been selected as a finalist!
To listen to their podcast, please click on the link below:
We need your vote!
It's time to have your say and vote for your favourite!
The public vote runs from 9am on Tuesday 11th of January - 5pm on Friday 14th of January and can be accessed via this link: www.collaboratedigital.com/vote or via the tab below:
It's easy to cast your vote, there's no need to log in or register, just click the thumbs up button under the QPHS podcast (thank you)!
Mrs Phillips, Associate Assistant Headteacher/Curriculum Team Leader of Communications said,
"Please vote for our students and I encourage you to share amongst your friends, families and colleagues. We are one of the smaller schools in the competition, so we need all the votes we can get!"
Good Luck boys!