Student gains scholarship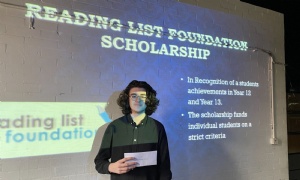 We are absolutely thrilled for Adam Thomas in Year 13 who has been awarded a reading list scholarship from The Reading List Foundation.
Textbooks should not be a luxury!
The Reading List Foundation exists to inspire the generations of graduates who received a free university education to help support those who are following in their footsteps, while facing much greater financial pressures. The Reading List Foundation helps exceptional Year 13 students from lower-income families succeed at university, by paying for their first year textbooks, providing practical, financial and emotional help. The scholarship is for £250, around the average cost of a student's first year Reading List, which is roughly what a student spends on textbooks in a year.
Adam was awarded this scholarship for his dedication to his studies and his outstanding academic achievement in his A-levels especially during the challenging last two years. The award was presented to him by Mrs Prydden, Head of Sixth Form, during the Year 13 Leavers' Celebration on Monday 6th June.
This scholarship will greatly help Adam who hopes to go on to study history at university in September.
"Two in five undergraduates in England from lower-income households have had to cut back on textbooks because of mounting financial pressures."

Reading List Foundation
"80% of students said the scholarship made a 'very big' or 'fairly big' difference to their first year at university."

Reading List Foundation
To find out more information about the Reading List foundation please visit: The Reading List Foundation or click on the image below: