Students play their part in Market Hall opening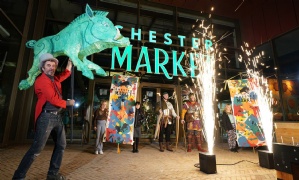 Year 7 students lead the procession showcasing their artwork for the new Chester Market Hall at the private launch of Chester's new development.
Working in partnership with the Northgate Development Team, a group of our Year 7 students had a fantastic opportunity to work with Chester based artist, Lucy Jones to create artwork that is now showcased in the new Chester Market Hall.
On Thursday 20th October, Lucy came into school to work in the art department and lead a printmaking workshop as part of the school's Cultural Enrichment Day. Students worked together as a team to create colourful surface patterns and symbols using stencil printmaking techniques which were then transformed into a stunning series of large scale banners ready to decorate the new Chester Market Hall. Students also designed a range of screen printed t-shirts featuring images and symbols coordinating with the banners, to wear during the market's opening event.
"It was a wonderful experience for the students to work with an artist in school. They showed great teamwork and support towards each other for the duration of Lucy's workshop."

Mr Parker, Curriculum team leader for visual arts & design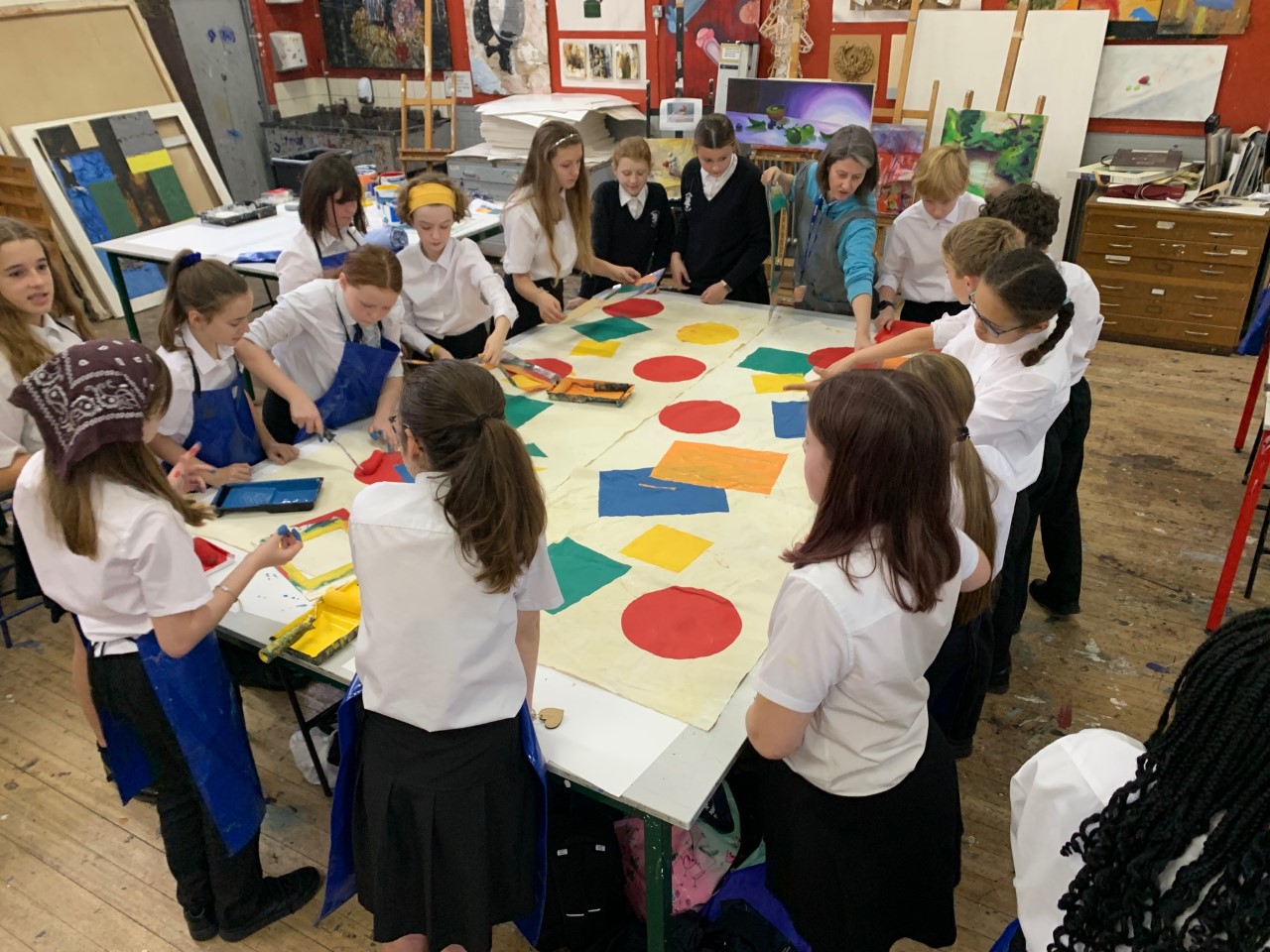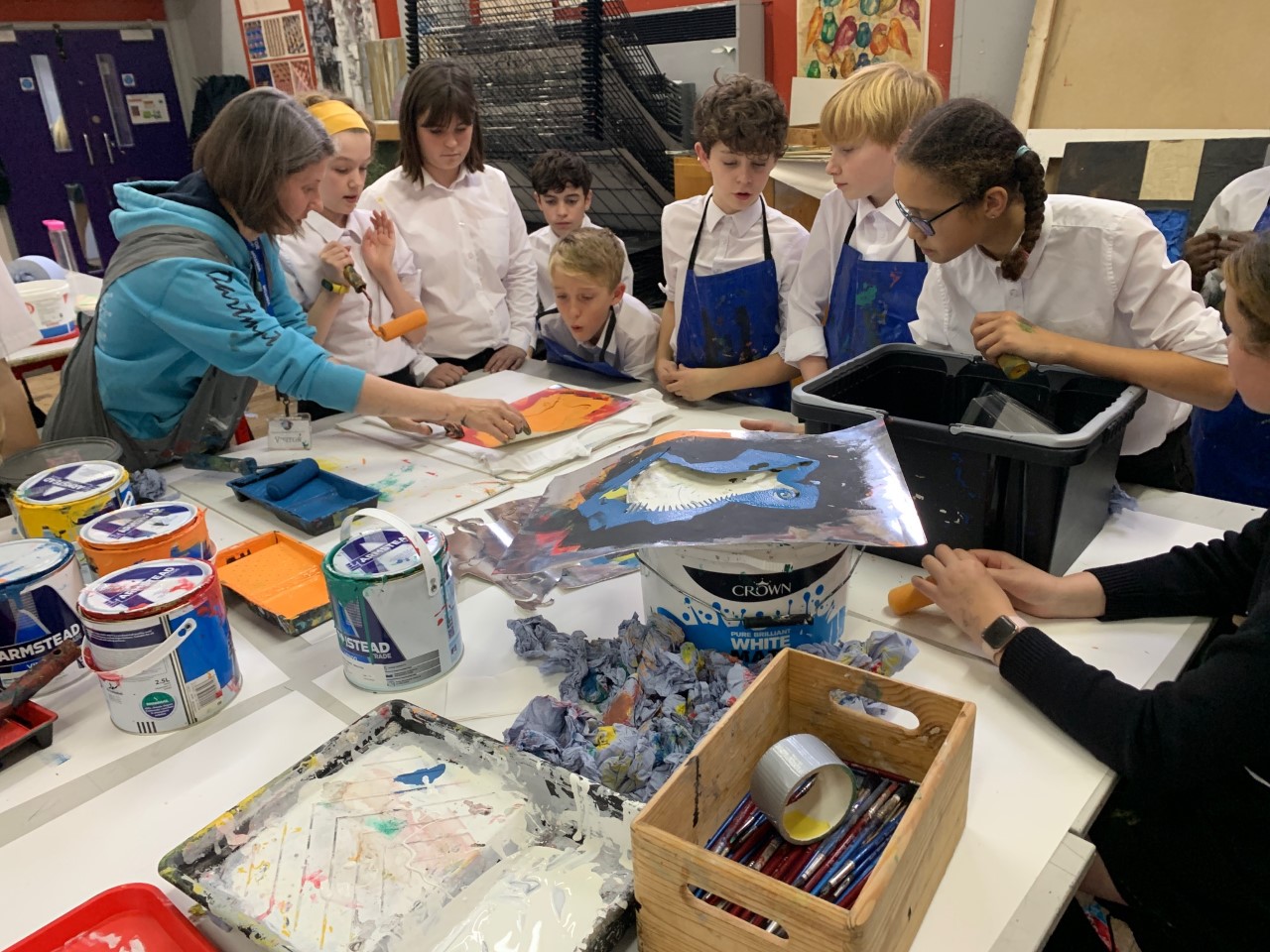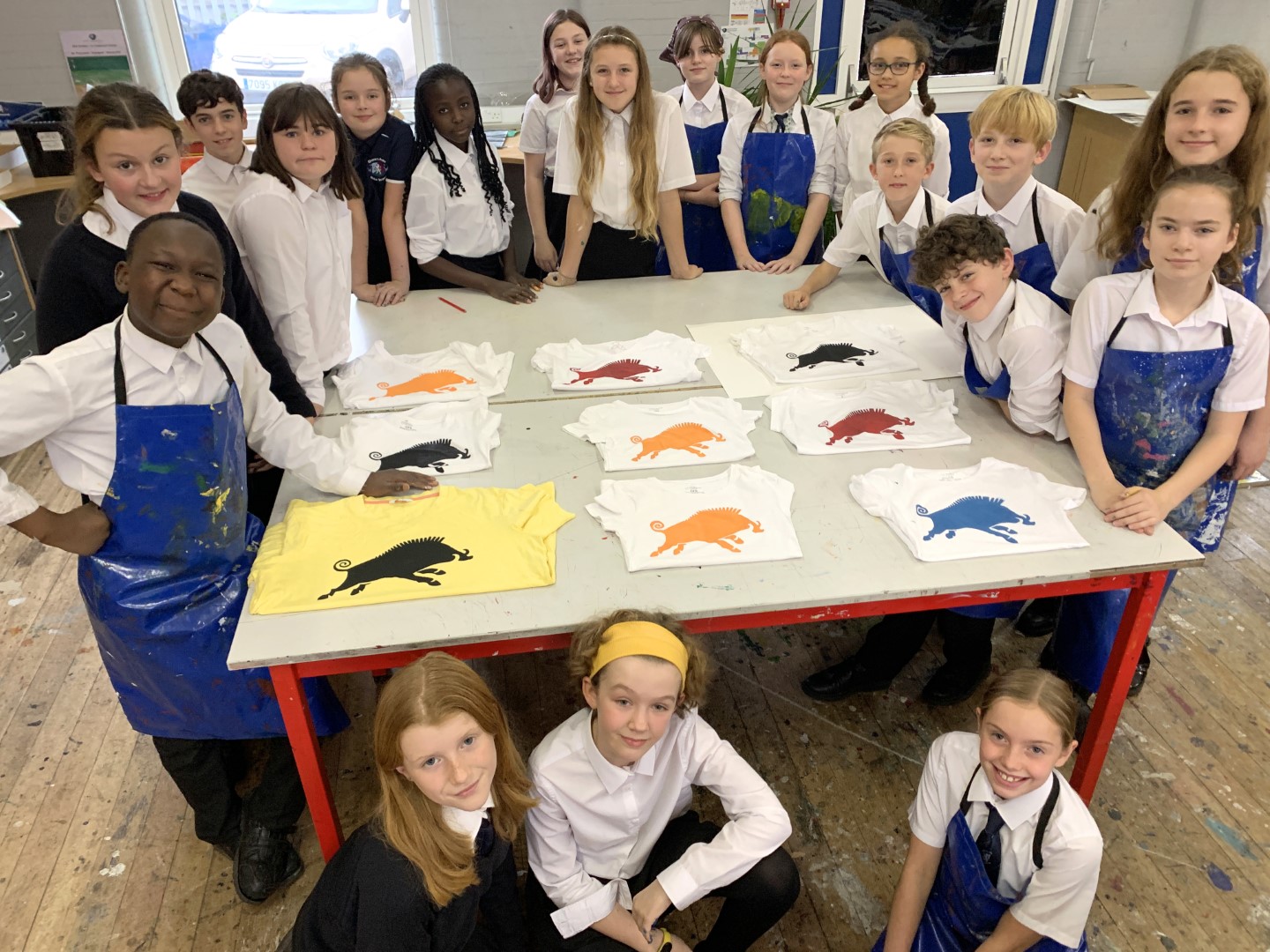 Ahead of the official opening, a select number of students were invited to represent Queen's Park High School at the private launch event on Friday 4th November, accompanied by Mr Parker, Curriculum Team Leader for Visual Art & Design. The colourful banners and props created by the students were used to decorate the square during the proceedings before taking up a more permanent place in the market hall.
"The art workshop was brilliant because we had to work together as a team to create a huge group piece of work. When we went to the opening, it surprised me a bit, the market looked stunning, there were fish stalls, meat stalls, drink stalls and much more. The lights, sounds and smells were amazing, I really recommend you go!"

emily-faye, year 7 student
To kick-start the event, students took part in a short procession proudly carrying their banners into the market hall in front of a host of special guests, stall owners and lucky golden ticket holders. Music, entertainment and food featured largely during the celebrations and was enjoyed by all.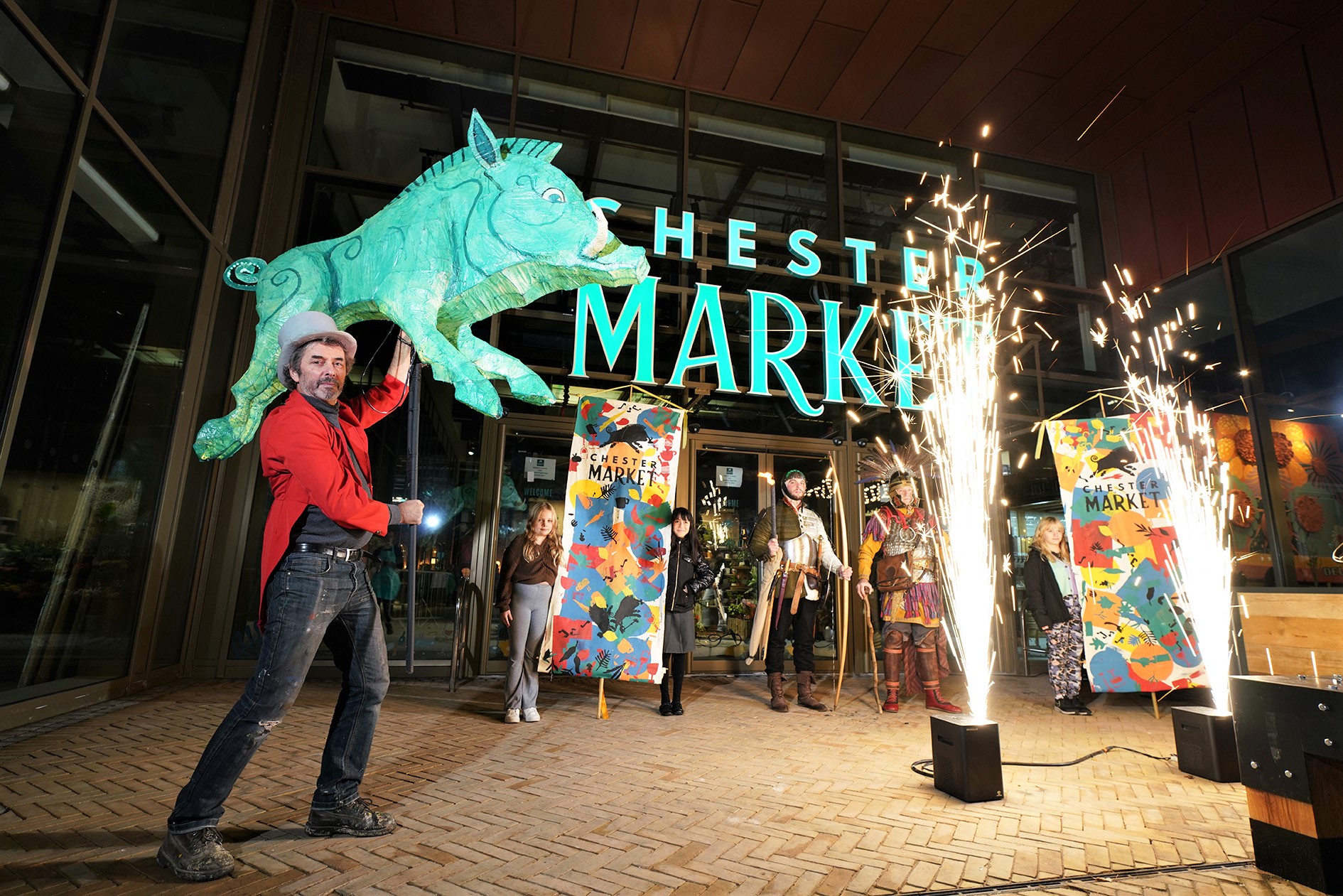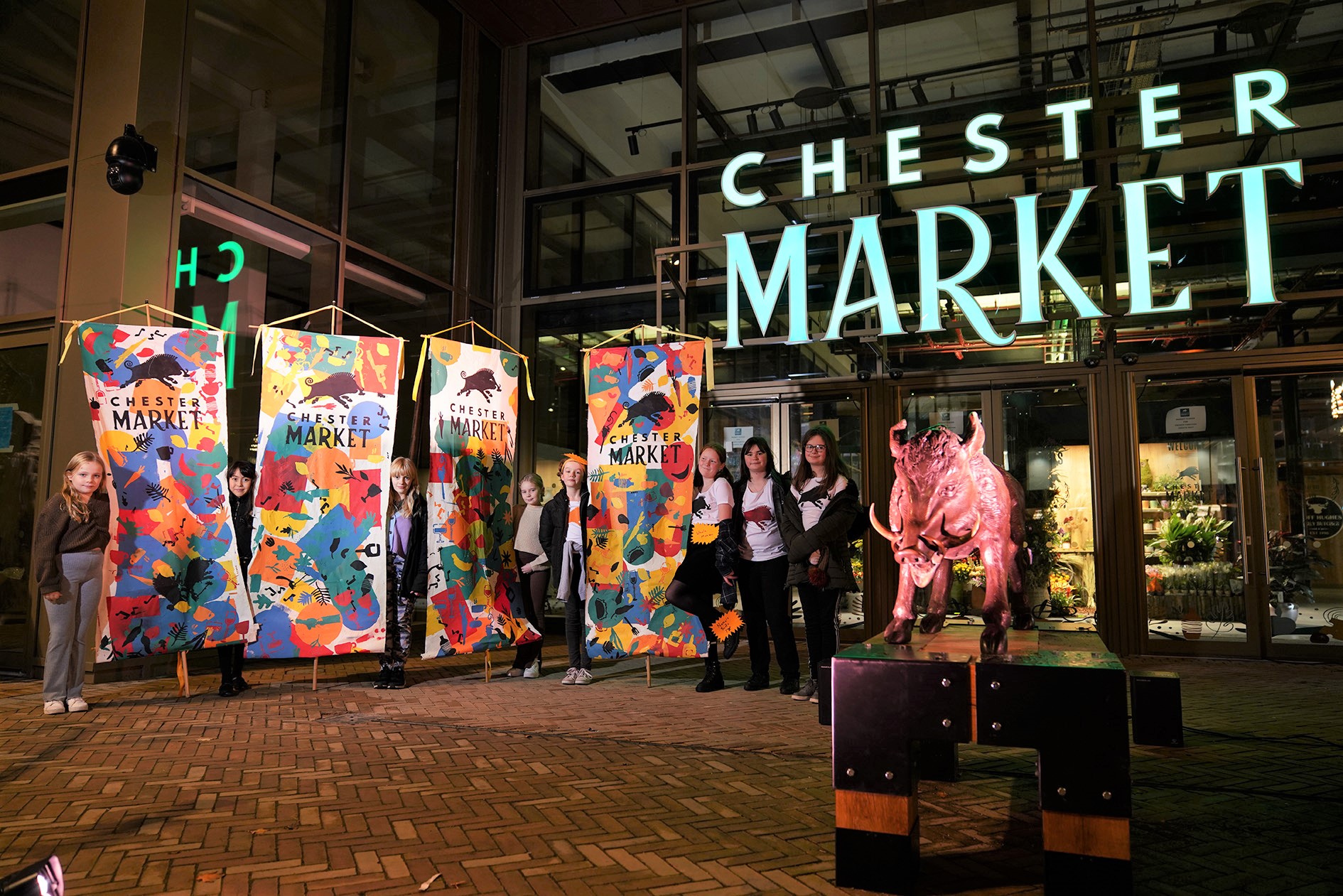 "The art workshop was really fun. We talked about the new Chester market and we also made t-shirts with the wild pig symbol on it. At the opening event, there were people in costumes… we laughed, we played, we did a little parade, we ate food and we also talked with the stall owners about their stalls and what they sold, it was great."

enoch, Year 7 student
"The students represented QPHS at the market opening with beaming smiles for what was a fun event of a wide range of activities."

Mr Parker
This art workshop follows on from the 'History in the Making' project back in June, in which Queen's Park High School was one of only three schools selected to participate to bury their own time capsule in the new Northgate development to provide future generations with an insight into life in Chester in 2022.
"Enrichment opportunities like these enable our students to learn from employers, to enhance their personal development skills and attributes essential for life in modern Britain"

Mrs Watts, PSHE / Careers Lead
Please watch the short film below from the launch event, which features our students and their banners.
The new Chester Market is part of the £72 million Northgate development which has transformed the city centre. It officially opened its doors to the public on Tuesday 8th November with over 30,000 visitors. The new complex replaces the old market, which had been based in the Forum since 1967. Cheshire West and Chester Council said the driving force has been to create a 'modern traditional market' influenced by venues in London, Barcelona, Stockholm and Altrincham and to create a 'unique blend' of produce, goods, food and beverage traders in a welcoming and inclusive space for everyone to enjoy' and where people can 'shop local and eat global'.
Our students' artwork can now be seen in situe on display in the produce area until next Spring 2023 when there will be a more encompassing community opening for the whole development.