Our Car park is open!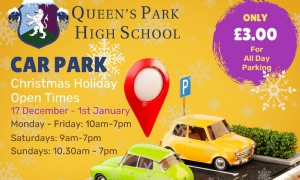 Looking for somewhere safe, cheap and convenient to park over the Christmas holidays?
Whether you're shopping local or heading into Chester, our school car park is only a 5 minute walk away!
You can park all day at Queen's Park High School, CH4 7AE for just £3. You'll also be supporting a great cause as all proceeds go to support the school's extra-curricular activities including rowing.
The car park is operated by members of the school's PTA.
Car park Christmas Open Times:
3rd December 2022 - 1st January 2023
Monday - Friday: 10am - 7pm
Saturdays: 9am - 7pm
Sundays (up to Christmas): 10.30am - 7pm
Closed: 24th - 28th December, New Year's Eve & New Years Day