Student wins truck livery competition
We are thrilled to announce that Jasmine D in Year 10 has been named as one of the 3 lucky winners of the Edge Transport Truck Livery Competition.
Jasmine's creative design was selected out of over one hundred entries, from schools across Cheshire, Wirral and North Wales and has directly contributed to the final look of Edge Transport's new truck to mark their 90th anniversary.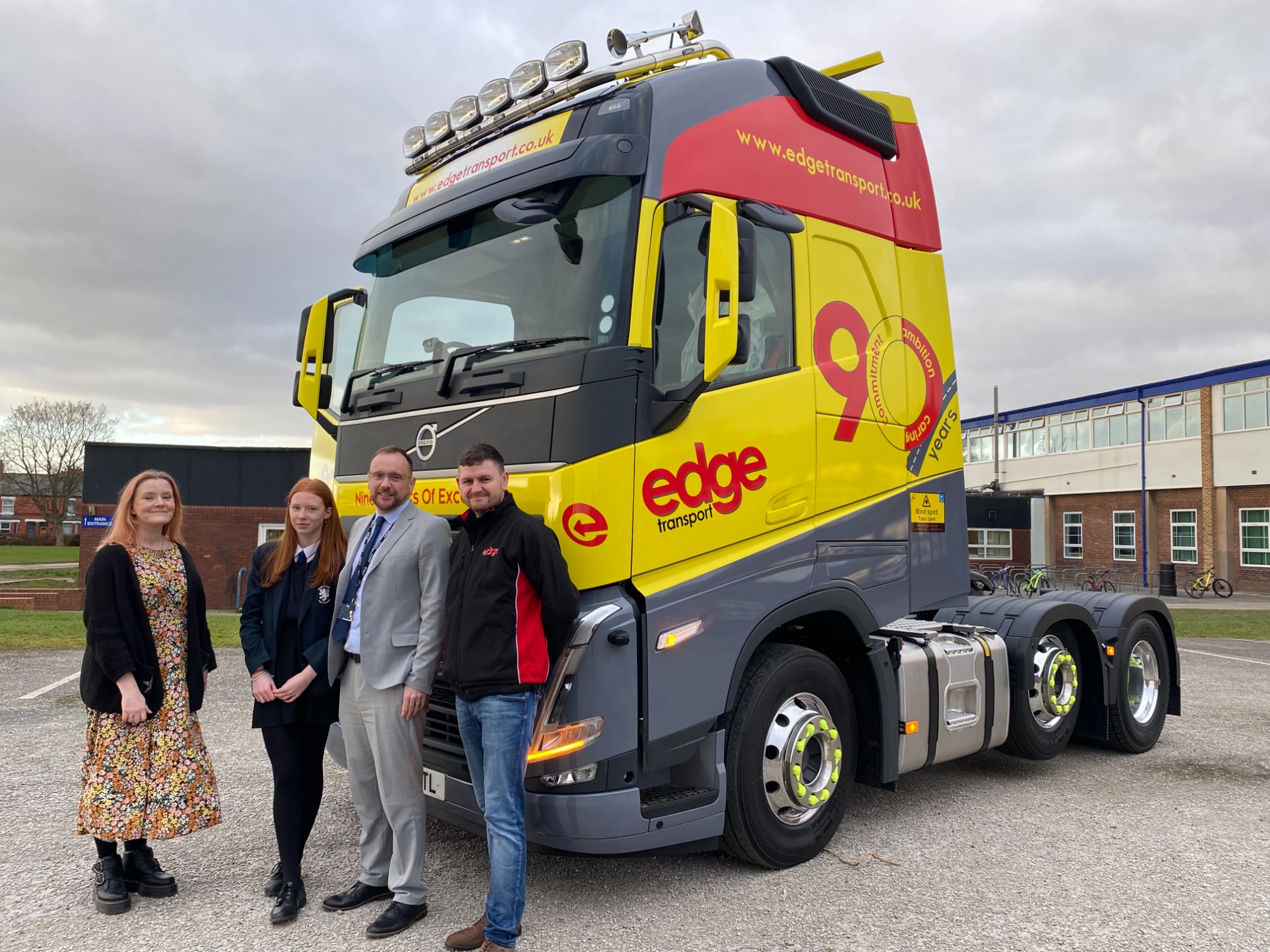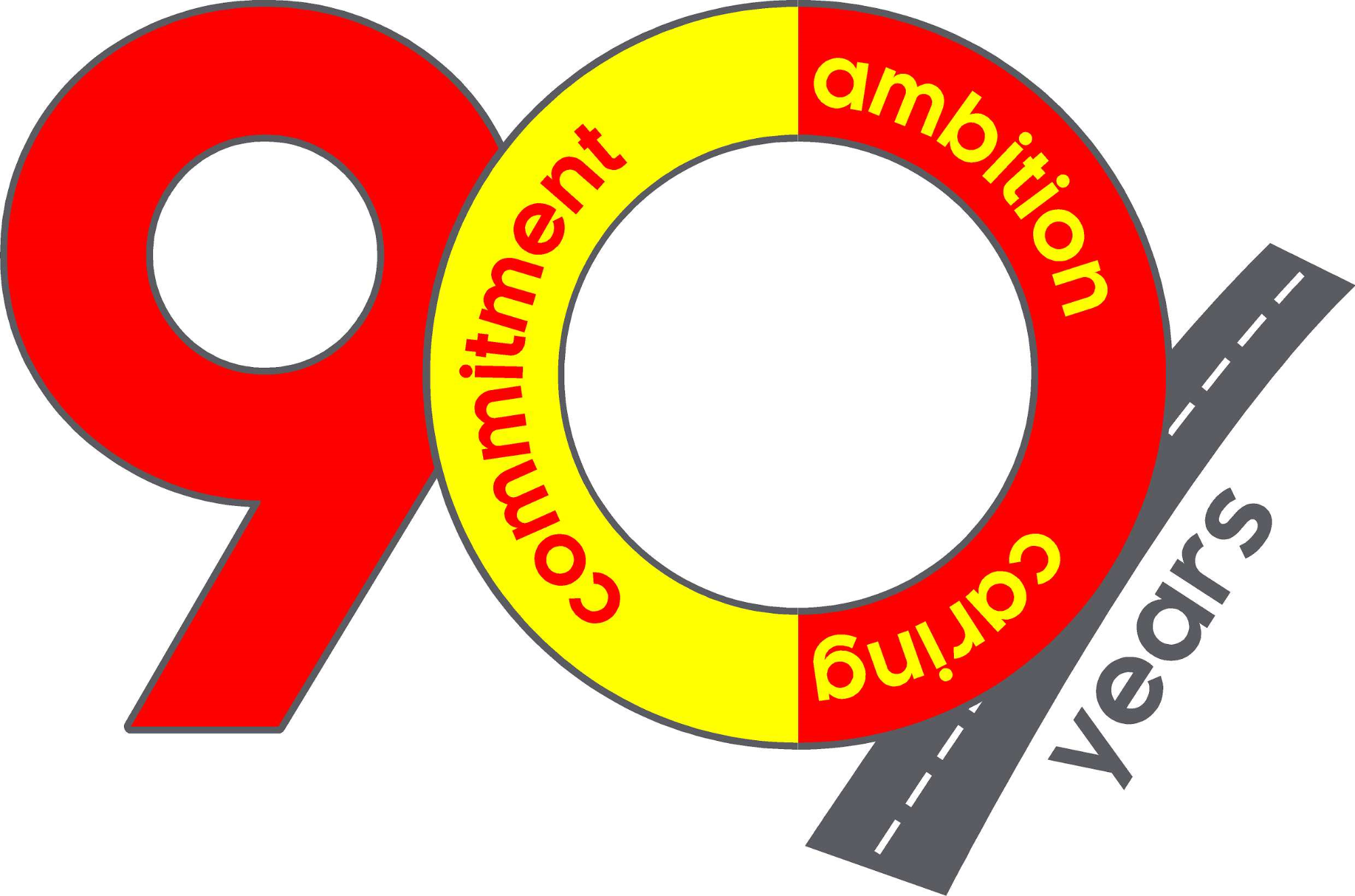 Jasmine created her design during the school's Cultural Enrichment Day in October, where her year group explored a range of careers within the Art, Design and Technology sector and were given specific and real life assignment briefs set by big companies to fulfil.
Miss Barmer, Teacher of Art and Design thought this would be a great opportunity for our budding student designers to create and submit their designs for Edge Transport's celebratory truck competition. Following the brief, designs had to be complimentary to the company's corporate branding, use the Edge logo, and give an outstanding image of the company.
"At Edge our values (Caring, Commitment, Ambition) are core to our daily operation and identity. We are proud of reaching such a milestone (90 years in business) and felt it was appropriate to involve the community on designing our 90th anniversary truck.

Jasmine's design caught the judge's eye with its fresh, bold look to help Edge stand out on the road. Congratulations to Jasmine for expressing her creativity and helping to write a new chapter in Edge's history."

Dan Roach, Head of Commercial at Edge Transport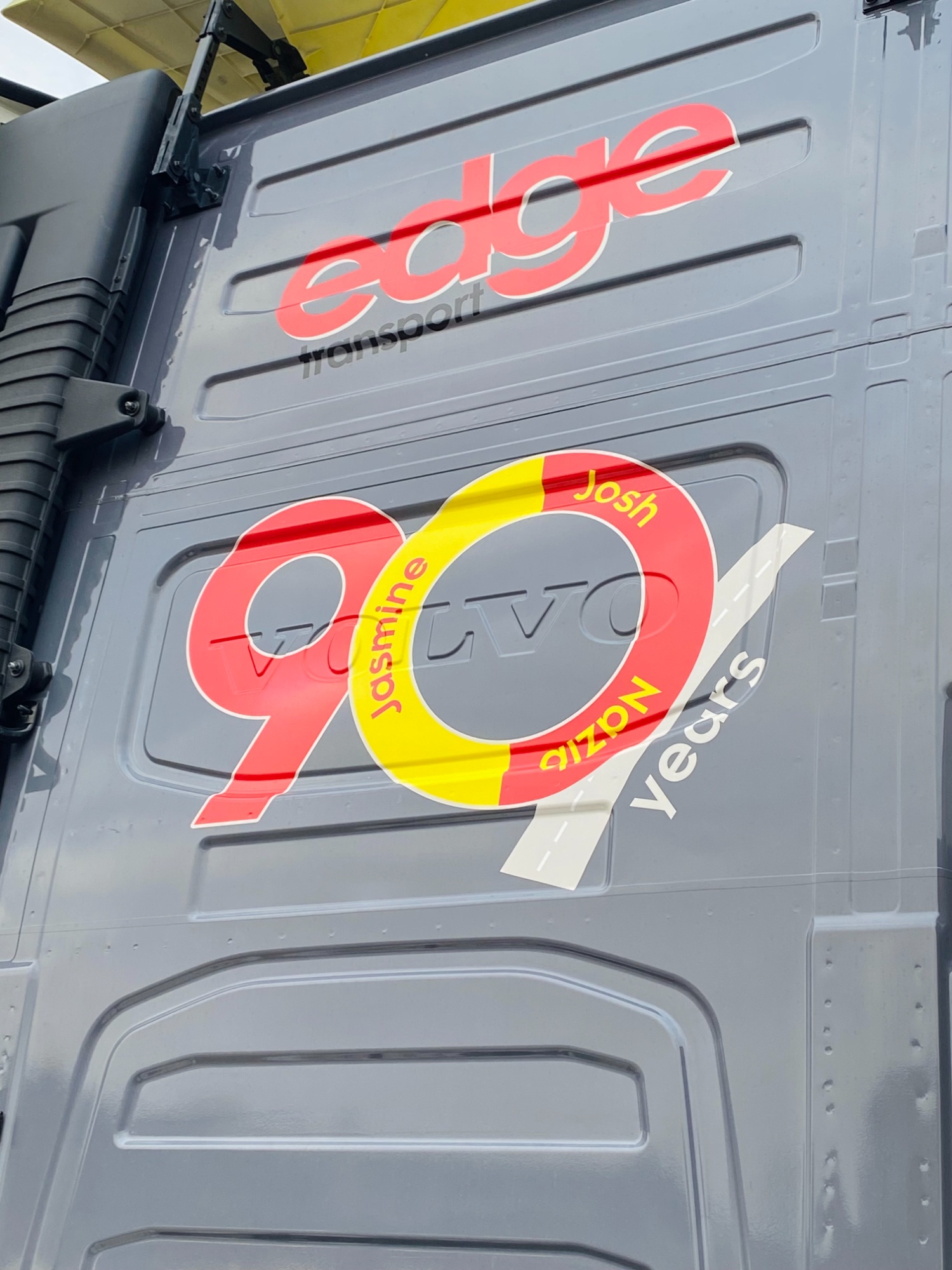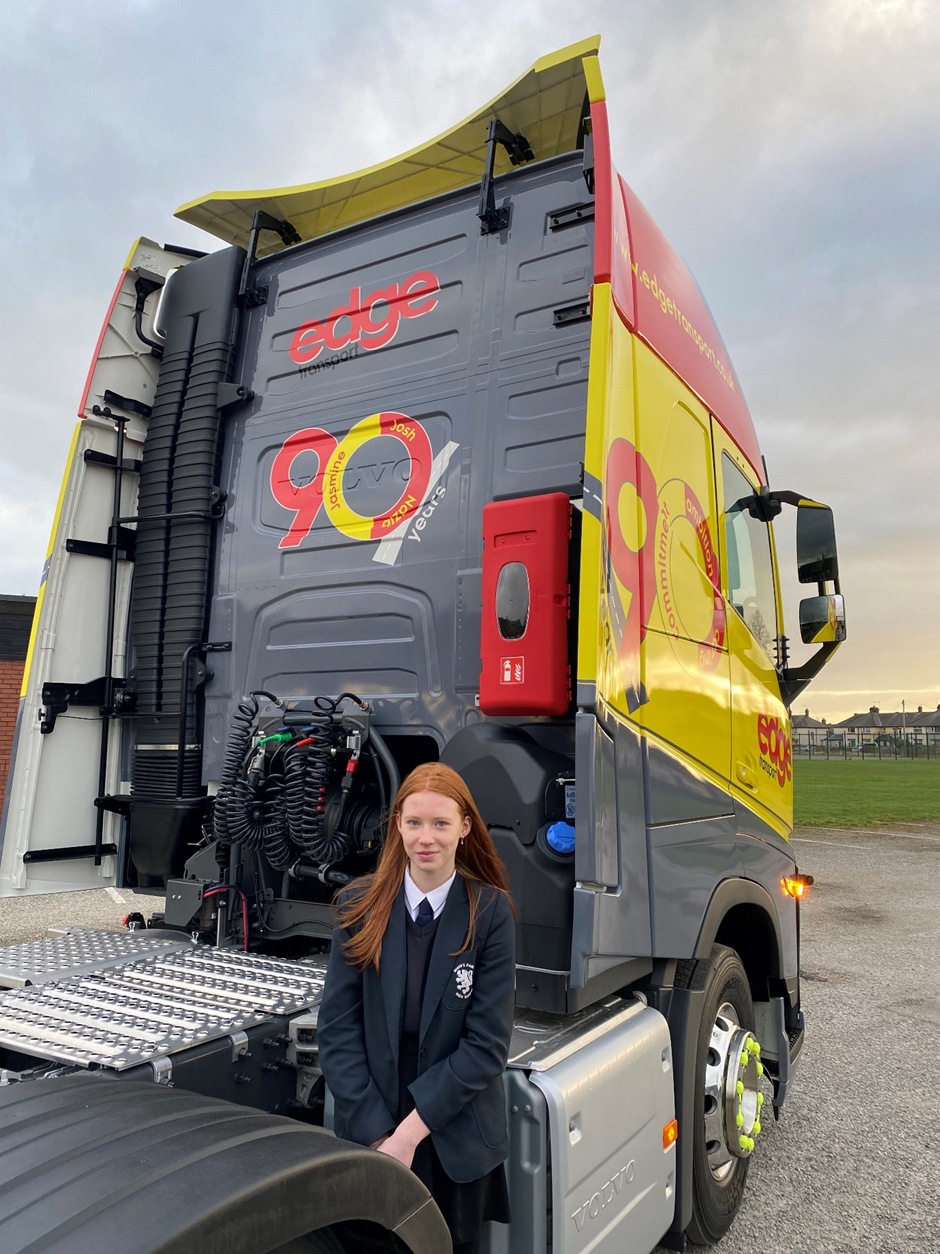 Since that time, the anniversary truck has had the artwork installed and on Tuesday 31st January, Jasmine was able to see her concept become a physical reality as representatives of Edge Transport came to Queen's Park in their brand new Volvo FH artic featuring the bespoke design.
As an extra special touch, the company had all three winners' names printed in the logo design which features on the back of the truck's cab; a lasting legacy for Jasmine to remember!
"I am delighted that Jasmine's design was chosen and it was amazing to see her design on the truck. The competition was a fantastic opportunity for all our Year 10 students to extend their understanding of careers within the design industry!"

Miss Barmer, Teacher of Art & Design
As part of the launch of the special edition vehicle, Jasmine was presented with her competition winner's prize, a £50 Amazon gift card for herself and another for the school. Miss Barmer is already looking forward to spending the school's voucher on art materials and resources to support teaching and learning in the classroom.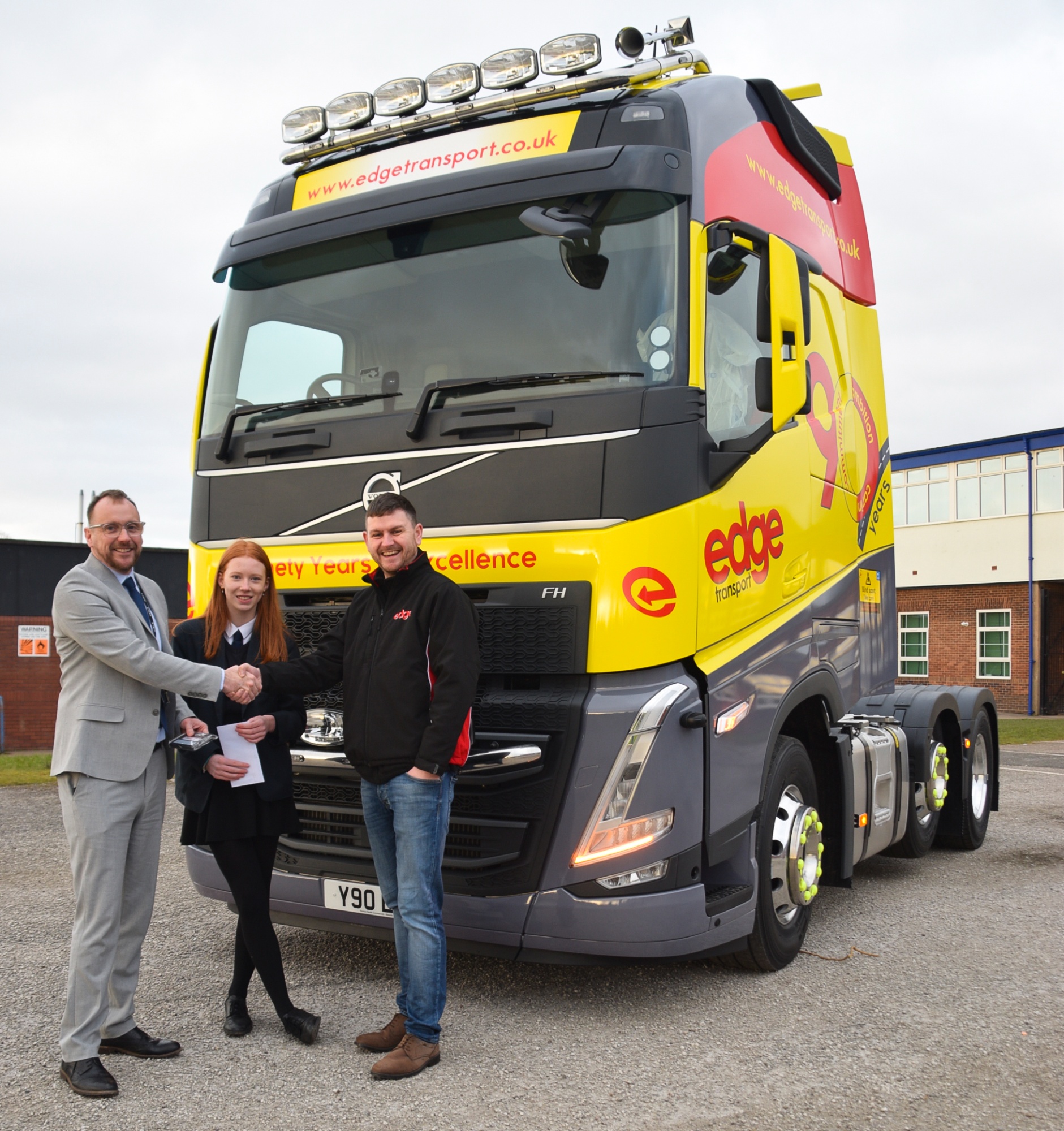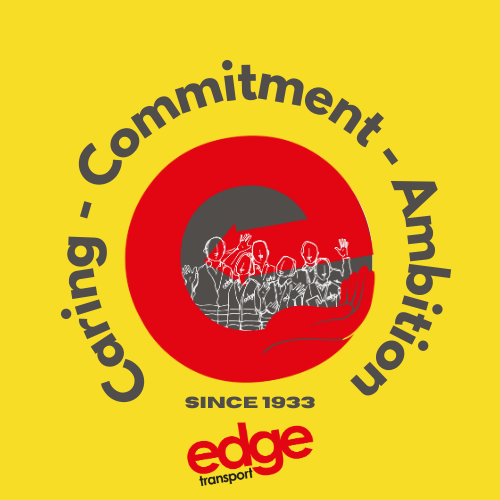 Edge Transport was founded in 1933 and are a third-generation family business based in Deeside, Flintshire delivering cost-effective, flexible pallet distribution and warehousing solutions. They currently have a 70 strong team and operate 38 vehicles which travel around the region and across the UK.
This year, they celebrate 90 years of delivering excellence in logistics in North Wales and the North West of England. To find out more, please visit their website: https://edgetransport.co.uk/