New Lunchtime Servery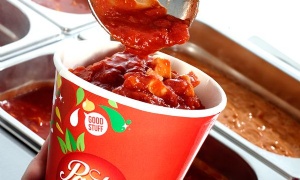 Pasta King is coming to Queen's Park High School!
We are delighted to announce the launch of a newly created pasta bar servery for all students to use at lunchtimes.
Following students' feedback that with a growing number of children on site, lunch queues were too long, we have created a dedicated speedy service pasta servery, accessible from the covered courtyard next to the existing 'Eatery'. This should reduce the queues at our other servery locations.
The new servery will open on Wednesday 8th March 2023.
We know that pasta is one of the most popular items on our lunchtime menu, so we have worked with catering partners Edsential, to bring Pasta King on board and increase both the variety of sauces on offer as well as improving the quality of pasta, noodles and rice available.
Pasta King also offer a variety of vegetarian, vegan and halal options to give an accessible option to students.
The first flavours to be sampled in school will include arrabiata, meatball, sweet chilli chicken with rice, vegetarian bolognese and smoky pepperoni. Sauces will change to suit demand and any special theme days.
Students will be able to purchase Pasta King using the normal cashless catering method. Pots will be charged at a maximum of £1.95 each and students will be able to purchase a meal deal, including pasta/rice/noodle pot, homemade cake or cookie and a bottle of water, for the cost of a free school meal (currently £2.62). Students will still be able to collect main hot meals and grab and go options from both The Eatery and East End Servery as usual, however all pasta will be served from the new servery.
We will continue consulting with students regularly to gain feedback on school provision and make improvements where possible.