Partnership with Chester Grosvenor Hotel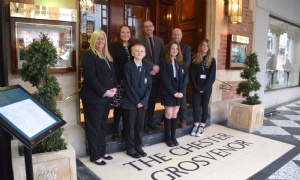 Queen's Park High School is thrilled to announce a key partnership with The Chester Grosvenor Hotel, a luxury five star hotel located in the heart of the city which overlooks the famous Eastgate Clock. The Handbridge based school are leading the way to provide an outstanding Careers Education and Personal Development Programme for all their students via a wide range of partnerships with cornerstone employers across the region.
The school are working with Chester Hospitality Association (CHA) and Cheshire and Warrington Pledge Partnership on an exciting new Chester wide venture whereby schools across the city are to be paired with an associated hotel. With Andrea Watts, Head of Careers at the helm, it comes as no surprise that Queen's Park High School were selected to pioneer the Hotels and Schools Programme working in partnership with The Chester Grosvenor Hotel. This initiative will see stronger links between the worlds of hospitality and education and highlight career paths available in the industry.
The Pledge Partnership puts employers at the heart of informing and inspiring young people about careers and progression by connecting businesses with educators, promoting industry sectors and developing longstanding relationships with schools to build a talent pipeline.
"This is collaboration at it's best, and it's great to see School's embracing Hospitality and of course why not, when you have the crème de la creme of Hotels, The Chester Grosvenor on offer alongside a dozen other high end hotels in the city. The Chester Hospitality Association is so proud to get this Hotel Schools Programme launched."

Steven Hesketh, Executive Board Chair of CHA
Earlier this month, members of the Queen's Park High School team had the pleasure of meeting Sarah Hercules, Learning and Development Manager at The Chester Grosvenor Hotel to discuss the vision of this new partnership. This included a key focus on raising students' aspirations through harnessing the skills and expertise from within the hospitality industry, to provide core personal development opportunities for all students. Over the next academic year the programme of events will encompass work experience at the hotel, catering masterclasses, careers workshops and the development of transferrable skills to name but a few.
"The opportunities that this partnership will bring are limitless. We are passionate about ensuring all of our students have access to personal development opportunities which will provide the knowledge, skills and experiences to be successful in the world outside of the classroom."

Andrea Watts, Head of Careers
The Chester Grosvenor Hotel offer a wide range of employment opportunities and apprenticeship programmes.
"I am absolutely delighted we have been partnered with Queen's Park High School and are very much looking forward to working with them to help inspire and grow the next generation of hospitality in Chester. Our people are at the very heart of delivering a five star experience, so it is important they are nurtured and have opportunities to develop, we offer a wide range of apprenticeships to enable our team to work towards a qualification, from commis chef apprenticeships to hospitality supervisor apprentices."

Sarah Hercules, Learning and Development Manager at The Chester Grosvenor Hotel