Miss Watterson wins Headteacher of the Year Award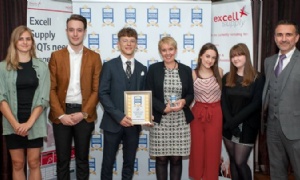 We are so proud to announce that Queen's Park High School Headteacher, Miss Watterson has been awarded Secondary School Headteacher of the Year at the Cheshire School Awards held at the Queen Hotel in June.
The School Awards are a celebration of the hard work, dedication and achievements of schools throughout the county, the children who attend them and the staff who inspire them.
Miss Watterson had successfully been shortlisted as one of the three finalists in the NCS Secondary School Headteacher of the Year award category and Mr Richardson (Assistant Headteacher) for 'Howard Worth's Inspirational Teacher of the Year'. Both were invited along with staff and students from schools across Cheshire to attend the celebratory event which was sponsored by Excell Supply Limited and hosted by TV presenter Dianne Oxberry.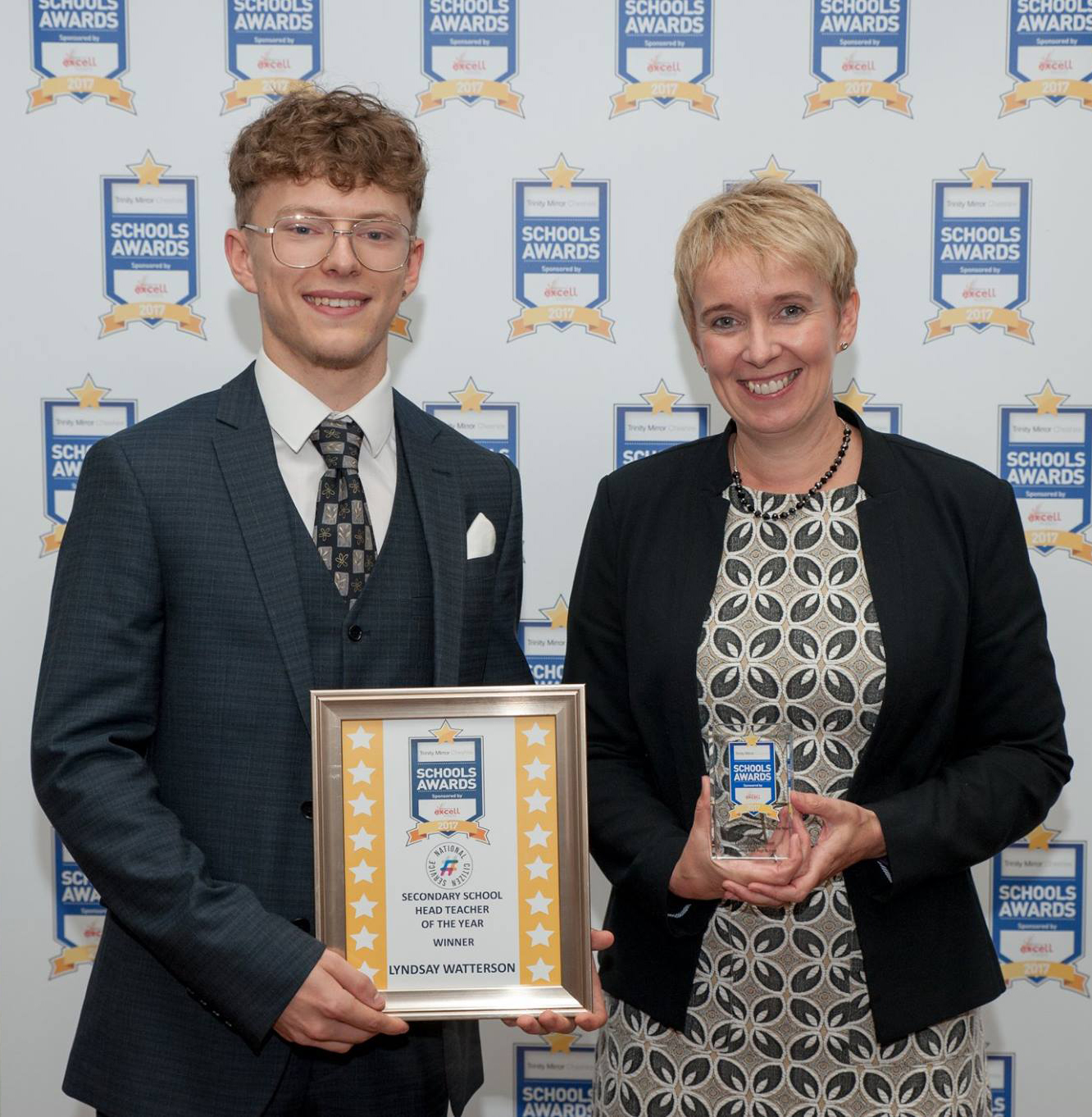 QPHS Chair of Governors, Kayte Parleviet said,

"If you could bottle passion, enthusiasm, a relentless pursuit of outstanding education for all, mentoring, leadership, consistency, vision, execution and humility, then Queen's Park High School hit the jackpot in January 2015 when Lyndsay Watterson started as Headteacher. Anyone who meets her, will within seconds detect the humility she brings to the role, which promotes her as an outstanding leader, her motivation is for education, and not for her personal promotion. If we look quite intimately, Lyndsay struggles with having the spotlight pointed at her, as her first and foremost drive is to ensure all children receive the education that is their right."
Trinity Mirror said every year the judging of this popular competition gets tougher and tougher as the number and quality of entries consistently increases. Jon Everall, main sponsor of Excell Supply and also one of the judges said "The standard of entries was extremely high which made judging extremely difficult ", so we were thrilled when it was revealed Miss Watterson had received this accolade which was so richly deserved.
We wanted to share the heart-warming testimonial below which was written by our Head Boy and Head Girl (as to why, under Miss Watterson's leadership, they believed they could), and clearly expresses why Miss Watterson has been named Cheshire Secondary School Headteacher of 2017! We hope you think so too!
"We don't wish to dwell on the past but those that have been here to experience the arrival of Miss Watterson instantly express the feeling of change she brought with her. They say it's difficult to explain. It's difficult to put into words. But it's a feeling that's felt around the school now, a feeling that's been missing for a long time. A feeling of community: of optimism, of control, of laughter, of well-being and of family. But without this incredible woman none of this would have been possible. She's not only improved the quality of education but completely changed the students' emotional attachment to both the teachers and the school itself. Whether it is a simple smile and "Hello" in the corridor or performing in an appropriately unpredictable murder mysteries night, she radiates laughter and joy and that passes through every part of the school.

Living in a modern world in which we are constantly developing and evolving, we need to come up with new and innovative ways we educate others and no one is surer of this than Miss Watterson. She has a vision that's seen and shared by all within the school. She has always said that the students are the most fundamental part of any successful school and as the voice of our students this mutual respect and engagement with us is really felt throughout. There is finally a real identity and sense of belonging at Queen's Park High with many seeing Miss Watterson as a true role model.

She's truly unique and we can't express enough how completely unaware she is of her own greatness. Winning this award would mean so much for our school as it would finally show those who still believe us to be "failing" that in fact we're far from it. But above all, it would give one of the most frustratingly gracious and kind hearted ladies we've ever met the same feeling of happiness that she has so selflessly given to every single student and member of staff at Queen's Park High herself over the past two years."