20% at QPHS in top 2% of country for GCSE English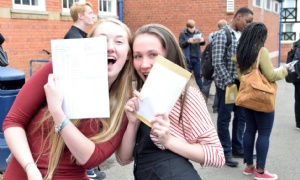 'The English Department are once again celebrating the success of students at the school following the outcomes of GCSE re-marks.
When we reviewed the papers of a number of our students, we identified some under marking of their papers, and we immediately referred these back to AQA for a review of marking. You may be aware that there has been a nationwide issue with the accuracy of GCSE English and English Literature marking this year, and we acted decisively when we felt our students had been disadvantaged.
We are delighted to say that as a result of some of the reviews, we have had a number of grade changes. The impact of this is significant, we can now say that almost 20% of the entries in English achieved a Grade 9. In short: 20% at QPHS are in the top 2% nationally for GCSE English. This is a phenomenal achievement for our students and we are delighted to be able to report that, as a result of the review process, more of our students got the results they so richly deserved.'