Chester parking at QPHS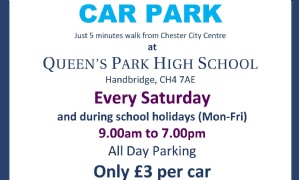 Struggling to find cheap city centre parking now FREE after 3pm has been axed in Chester? Look no further you can park at Queen's Park High School for just £3 all day - Bargain! Check out our opening times. . .
The school car park is run by QPHS PTA and is a large, safe and sensible alternative to the busy and stressful inner city parking. It is ideally located on the school grounds just off Queens Park Road by the Esso garage in Handbridge and only a 5 minute picturesque walk to Chester city centre passing local bijou shops and glorious views over the River Dee en route.
The car park is manned by our own attendants (QPHS Sixth Form Students).