Charity Endurance Challenge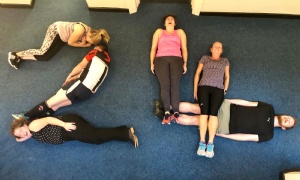 Staff at Queen's Park High School have been in training for the Equinox 24 hour race in an effort to raise funds for The Clatterbridge Cancer Charity and The Royal Marsden Cancer Charity. The team of 8 consists of Mr Johnson, Mrs Cutler, Mr Footitt, Mr Taylor, Miss Oliver, Miss Britland, Miss Whitford-Stark and Mr Walters and they hope this ultimate test of endurance will help them reach their target of raising £2000 for these two very worthy causes.
The event takes place at Belvoir Castle in Leicestershire on the weekend of 22nd and 23rd September. The team will be running ten kilometre laps of the castle grounds in a continuous relay. Two of the team members participated last year, but most are running novices and this presents a significant challenge for them. The team have set themselves the target of completing 20 laps, equivalent to 200 kilometres, but know it won't be easy. Other members of staff have put themselves forward to support, with the intention of running a 24 hour barbecue to keep the team energised.
In addition, Mr Johnson will be hosting a music quiz at the school on Friday 14th September from 7pm. Questions will be aimed at all members of the family with rounds from the sixties to present. Tickets cost £5 for adults and £3 for under-18s and are available from school Tel.01244 981500. All funds raised will go towards the QPHS Run for Cancer appeal, so we hope to see you there! Alternatively you can also support the staff in their endeavour by donating to their Just Giving Page called Queen's Park High Run for Cancer. All contributions are greatly appreciated.