Runcorn Autumn Head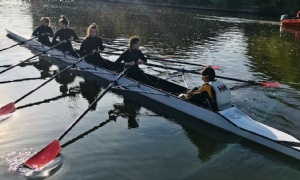 QPHS rowing hots up as the weather starts to cool. . .
The start of the new season of head racing has seen some terrific results from students at Queen's Park High School Rowing Club kicking off with the Runcorn Autumn Head event.
On Saturday 29th September the QPHS squad travelled to Runcorn Rowing Club to compete against some of the top rowing clubs around the North West. Tackling distances of 2250 and 4500m, the rowers showed their resolve, determination and power as they all ranked in the top three in their races.
The club had wins for:
J13 single - Luke Harris
Women's J14 coxed quad - Darcy Smyth, Claudia Jackson, Lowri Jones, Emily McDermott and cox Iestyn Burke
Women's J14 double - Darcy Smyth and Claudia Jackson
J16 coxless quad - Ben Baker, Dan Williams, Charlie Doyle and Ioan Gwenter
J15 coxed quad - Josh Halewood, Iestyn Burke, James Cox, Dylan Howard and cox Josh Williamson.
All other QPHS rowers were successful in being placed either second or third for each of their races. Congratulations to all involved; this is a fantastic start to the season.