Santa Dash parking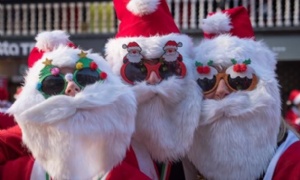 Taking part in Chester's Santa Dash and wondering where to park? Use our school car park for all day parking and only £3 per car & all cash from the dash will be donated to the two charities.
On Sunday 2 December Queen's Park High School will launch the Christmas opening of its car park by welcoming all manner of 'Santas', who will be taking part in Chester's Santa Dash. All funds raised from the Santa Dash parking will be donated to two very worthy charities, The Countess of Chester Baby Grow Appeal and The Hospice of The Good Shepherd.
The QPHS car park is an innovative business venture operated by the school's PTA. It is open every Saturday from 9am - 7pm throughout the year and weekdays during school holidays.
Lisa Jones of the PTA said,
"This is a great way for us to support two great local charities and to launch the Christmas opening of the QPHS car park.The car park is perfectly located for Christmas Shopping being just a 5 minute walk from the city centre and offers a cheap alternative to city centre parking at just £3 for all day parking."
The car park will be open every Saturday and Sunday up to Christmas and weekdays during the school holidays (except on bank holidays).
Kathy Kenney from the Countess of Chester Babygrow appeal has expressed her thanks for the school's continuing support saying,
"It means a lot to our Dashers having somewhere convenient to park and knowing the cash is coming back to the Dash".