Remote Learning
Remote education provision
Free Office 365 Package for all students
Student Email Addresses
Every student at Queen's Park High School has an email address as part of their school network account. The email address is username@qphs.co.uk and uses the same password they use to sign into the school computers and EduLink One.
Password Resets
Online Learning - Microsoft Teams
To support students with their studies during self isolation or if they are unable to get into school, resources have been uploaded onto Teams to enable students to continue their learning in their subjects. In the event of a bubble of students needing to isolate, teachers will endeavour to deliver lessons via teams in a 'blended' fashion so that those who are isolated at home can access the live lessons as they happen in school. Information as to how when these will be delivered will be communicated to isolating students via EduLink and set up on the pertinent class channel on Teams.
Microsoft Teams can be accessed via any type of smart phone (should a laptop/tablet not be available). The app is free to download and login information is the same as accessing via a computer or tablet.
For those students who are struggling to access Microsoft Teams, Julia and Hannah from our Sixth Form Leadership Team have put together a short video to explain how it works when using a smart phone or computer.
Accessing Teams & outlook for email guide
On a PC/laptop
> Open an internet browser and open the following web address www.office.com
> You will then come to a sign in page - use your school email address
(this is normal username which is used to log into the school network with @qphs.co.uk on the end.
For example, someone who normally logs on with 16cocos would use 16cocos@qphs.co.uk
> You will then be prompted for a password - enter your normal school login password
> You will then get the screen which is shown in the image below
> Choose Teams to access Microsoft Teams and Outlook to send and receive emails
> If you are prompted to re-enter login details, this is the same as above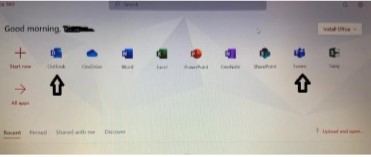 Please remember that you can also use this account to download Microsoft Office programmes (such as Word, Powerpoint) to your PC, tablet or phone.
Helpful resources during home learning