Sixth Form Open Evening 2023
Please note this event took place on Wednesday 6th December 2023. Thank you to all internal and external students and their families who joined us for the evening.
If you have any questions you would like to ask our team about our Sixth Form, please email: 6thform@qphs.co.uk
You matter to us!
Take charge of your future and come and join us for our Sixth Form Open Evening on Wednesday 6th December 2023 from 6.30pm- 8.00pm. This will be a fantastic opportunity to experience our vibrant and welcoming Sixth Form and find out how we can help you achieve your future ambitions with the support of a dedicated and experienced team of staff.
Students will get the chance to find out more about Sixth Form life including our:
State of the art facilities
Excellent range of Support Services
Subject and course information to help you make your choice
Range of engaging courses on offer
During the evening, you will have the opportunity to explore our marketplace for detailed information about courses and a chance to talk to staff and students. There will also be guided tours of our Sixth Form provision, including the Henry Rogers Sixth Form Centre, Library and Study rooms, computer suite and 'The Beach' - our on site Sixth Form Café. Plus you can hear first-hand from our students about what life and learning at Queen's Park Sixth Form is really like!
You will discover how we will support and nurture your individual skills and talents as a member of a high performing Sixth Form that prides itself on its 'family feel'; you matter to us!
Tours for external students
Guided tours for students new to Queen's Park High School started at 6.00pm.
To book your place on a guided tour, please call us on Tel: 01244 257088 or email: 6thform@qphs.co.uk or complete the booking form below:
We look forward to welcoming you to our Sixth Form.
Prize draw
As an added bonus to the evening we're running a FREE prize draw where you could win a £50 Student Favourites gift card courtesy of Queen's Park High School to use at some of the nation's favourite and most loved stores. So, whether you're into fashion, tech, food or games, we've got you covered!
To enter, all you have to do is come along to our Sixth Form Open Evening, mention where you've heard about this event and we'll pop your name into the draw. If you win – the gift card is yours! We've two £25 runner up prizes for grabs too!
What are you waiting for? Come along and find out more.
The results will be announced on Tuesday 12th December 2023.
Student Subject Videos
To access the series of bite size videos of our Sixth Form students providing a little personal insight into what our courses entail and why you might want to pursue them with us at Queen's Park, please click on the image below to link to the Student Subject videos page which contains all 25 bite size videos.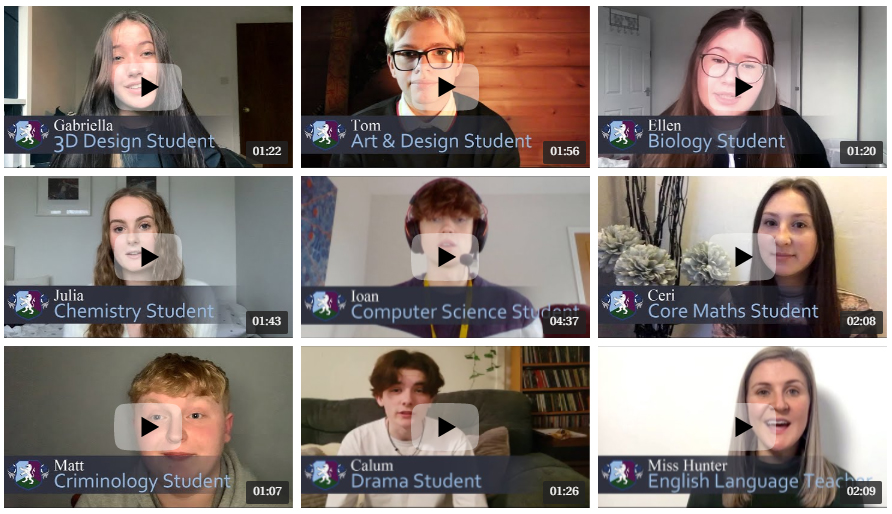 Further Information
For further information about our Sixth Form and courses on offer, please click on the links below to download our current Sixth Form Prospectus, Course Information Guide for 2024-2026 and most recent newsletters.
Level 3 BTEC Extended Diploma in Uniformed Protective Services
Interested in the Level 3 BTEC Extended Diploma in Uniformed Protective Services? Please click on the link below for further information about the course:
We are delighted to be able to share a flavour of Sixth Form life at Queen's Park High School with you.
If you have any questions you would like to ask our team about our Sixth Form please email: 6thform@qphs.co.uk
Apply Now for a place in our Sixth Form
There is always a high demand for places in Year 12 so to avoid disappointment and to help to secure your place, please complete the relevant online enrolment form below.
Please note the closing date for applications into Year 12 for September 2024 is Friday 16th February 2024.
To find out more on how to apply for a place in the Sixth Form at Queen's Park High School, please click on the Admissions link below:
Keep up to date with all our news & events:
Want to keep up to date with all our latest news and events?
Complete our enquiry form and you will be added to our mailing list.
*Don't forget to add 'Sixth Form - keep in touch' in the message box.
You can also follow us on: