The Pledge Partnership
We would like to highlight a new initiative from the Cheshire and Warrington Pledge, hosted by the Local Enterprise Partnership (LEP) which is launching a series of interactive online live broadcasts aimed at students aged 11-18 years to help young people to access career support and guidance whilst in the lockdown period.

The sessions bring a host of Cheshire and Warrington based employers, universities, colleges and training providers who will talk about careers, employability skills and training pathways and young people have the chance to ask questions in real time through the live chat functionality to interact with the speakers safely.
Launching on Monday 20th April, which explains more about the benefits of the initiative, the series will run every Tuesday and Thursday at 11am for 30 minutes to one hour for the duration of the summer term.
Broadcasts
| | | |
| --- | --- | --- |
| 20th April | 11.00am | Pledge Intro – Stacey Rutter |
| 21st April | 11.00am | Network Rail – James Richards |
| 23rd April | 11.00am | Driveworks – Bridie Mills |
| 28th April | 11.00am | Higher Horizons – Lucy Williams |
| 30th April | 11.00am | Thrive Creative – Dave Powell |
| 5th May | 11.00am | United Utilities – Matthew Newman |
| 7th May | 11.00am | Bentley Motors – Andy Moore |
| 14th May | 11.00am | Franklyn Financial – Ian Cotterill |
| 19th - 22nd May | 11.00am | Virtual Careers Festival |
| 20th May | 1.00pm | Astrazeneca |
Schedule these broadcasts into your week and where possible watch these sessions live, however these will remain on the site for 12 months and questions can be submitted after broadcast.
For more information and to listen to the live broadcasts visit:
Pledge Resources
We would like to encourage students to access The Pledge Partnership Resources where they can gain lots of useful information linked to CEIAG including:
Apprenticeships - How to prepare for applying and succeeding at interview
Careers - Explore careers in some of fastest growing industries in the UK
Challenges - Take part in the challenges and develop our entrepreneurial skills
National Career information - Explore National organisational offering careers information
Personal Development - Develop your CV and prepare for interview and assessment
University Resources - Find out about University life and the courses you can study
Virtual Activities
Virtual Careers Festival - 19th - 22nd May 2020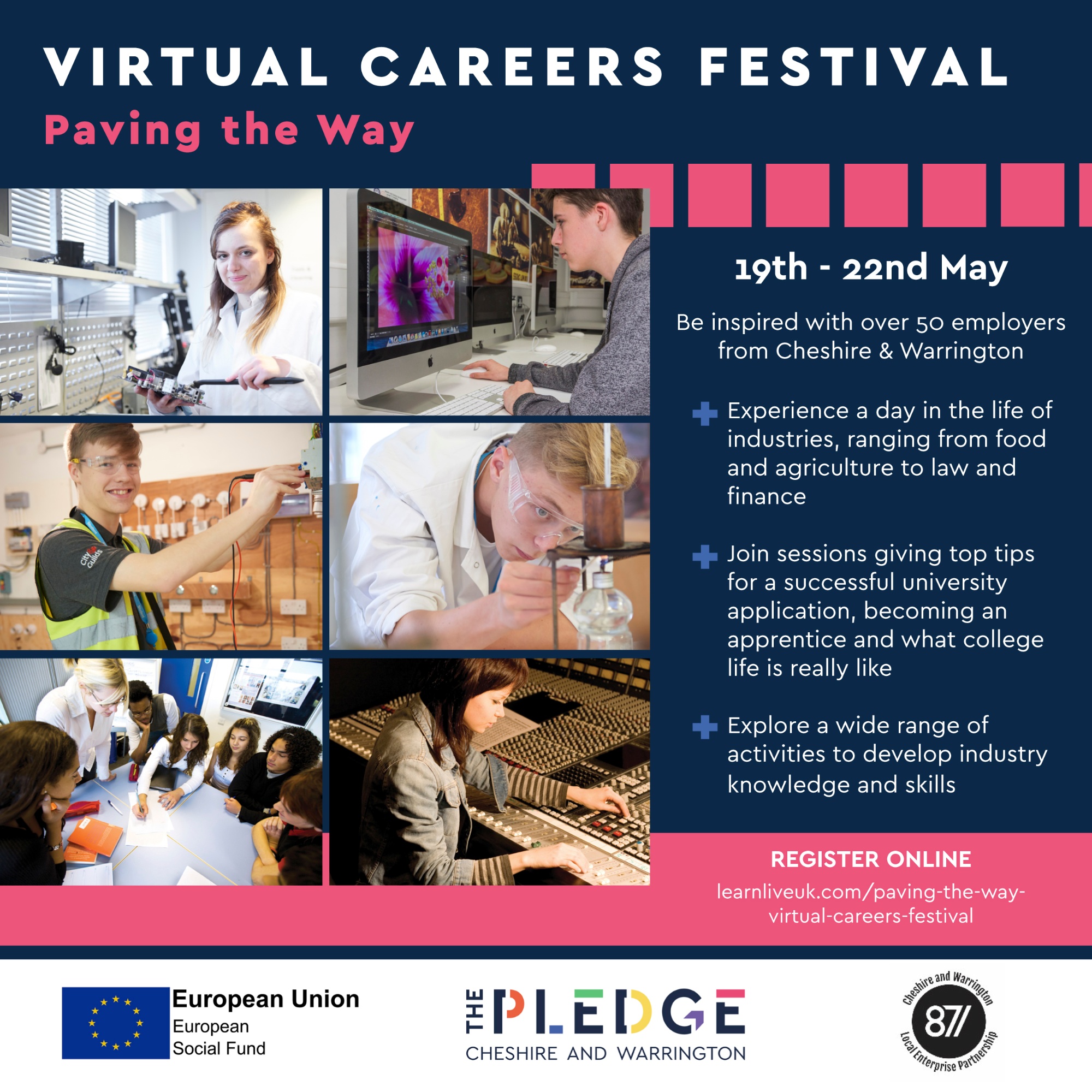 As part of our commitment to providing you with first class Careers Education, Information and Guidance, we are excited to be part of the
Virtual Career Festival – Paving the Way
hosted by The Cheshire and Warrington Pledge Partnership. Launching at 11am on Tuesday 19
th
May – Friday 22
nd
May. We encourage all students in Year 10 – Year 13 to participate in this innovative four day programme.
The Virtual Careers Festival is run by The Cheshire & Warrington Pledge with over 50 employers and business owners taking part with the aim of helping students explore and understand a wide variety of jobs and careers. The Festival is aimed at mainly Years 10 - 13, but younger participants are welcome.
Summary of Programme
DAY 1 & 2: Tune in at 11am on Tuesday to meet your hosts who will let you know what to expect and how to join in. We then have a whole host of videos from over 50 local employer giving a snapshot of a "Day in the Life" of their career and job.
DAY 3: Today is the day you get to explore what you may like to do next in education. Perhaps you want to go to college, university or do an apprenticeship?
DAY 4: The final day is very hands-on. The activities will help you plan for your future job from making a CV writing to interview skills making sure you can get a job!
Register
To join the festival, students should pre-register for the event, visit the Paving the Way website or copy this link into your browser: www.learnliveuk.com/paving-the-way-virtual-careers-festival/ and click the orange button 'Register Now' at the bottom of the page.
Each day you will be asked to log in to a "On Your Marks - Daily Briefing" for 15 minutes. After that, your participation is mainly self-directed as you will be asked to join in with activities that appeal to you. It is expected that each day, you will be actively involved in Festival activities for between 1 - 3 hours.
Please open the links below for more information
To keep up to date with all activity follow @ThePledgeCW #PavingTheWay