Rock your next interview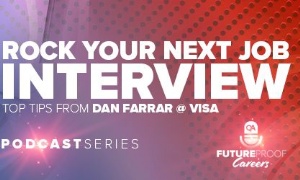 Future Proof Careers is for those just starting out in the world of work. In each episode, they focus on a hot career topic and blow it wide open with real, honest advice from their QA apprentices, alumni and a range of career experts.
Rock your next interview with tips from Visa's early careers expert Dan Farrar.
Dan Farrar, Next Generation Talent Manager at Visa Europe and early careers expert extraordinaire shares his best advice on how young job-seekers can catch a hiring manager's attention – and after seeing thousands of applications, he really knows his stuff.
Whether you're struggling with your CV, have your very first interview coming up or you're dreading that tricky question, "What's your biggest weakness?"… tune in!
Listen below or on Apple Podcasts or Spotify! Episodes 1 & 2 now available.