Degree Apprenticeships at Fujitsu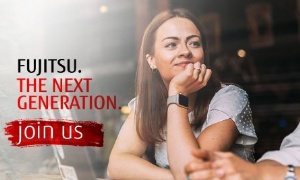 Want to be the next generation of an organisation that is developing new technologies, pushing the boundaries of digital, and shaping the way we live our lives. Fujitsu funds the whole cost of your degree therefore their Degree Apprentice Programme is a way for you to study whilst you earn.
At Fujitsu, their services touch 99% of UK citizens every day, the fact you may not notice says they're great at what they do! In partnership with Manchester Metropolitan University and Winchester University they are offering Degree Apprenticeships in BSc (Hons) Digital and Technology Solutions.
They have roles available in Manchester, Warrington, Bracknall and Basingstoke in:
Want to know more?
Visit one of their open evenings where they will be showcasing the areas of business their apprenticeships are available in as well as some of the exciting technology they develop. Representatives of Fujitsu and the universities will also be available to talk to. Click on the buttons below to register your interest.
For further information on Degree Apprenticeships at Futjitsu click here.