Bentley Motors Apprenticeships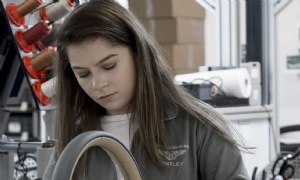 Upcoming opportunities and activities for Bentley's Future Talent programmes
Apprentice vacancies within Bentley for 2020 are due to go live w/c Monday 27th January, with over 30 positions available at advanced, higher and degree levels in a range of functions. Bentley have a real focus this year on Degree Level Digital, Engineering and Business apprenticeships, with others also available in Level 3 Manufacturing Engineering (eg Paintshop, Plant Maintenance), PR and Comms, Health and Safety, Purchasing and Marketing.
Apprenticeship Open Day - Saturday 1st February
Held at Legends Conference Centre at the Crewe Site. This event is aimed at Year 11 and 13 students, or those who are eligible to apply for an apprenticeship in 2020, to give an insight into the Company and the roles available this year.
Attendance at this event is free but ticketed – tickets are available from this link - Bentley Open Day
You may already be aware of our careers website www.bentleycareers.com, and our START profile https://guest.startprofile.com/employer/1449, where students, teachers and parents can find out more about the business and our trainee opportunities. Bentley also send out many updates via @BentleyCareers on twitter.
They will also shortly be releasing a Digital Skill Set programme on START, the link to which they will distribute when live. This programme will allow students to explore six digital related areas, with input from Bentley apprentices, managers and experts. It will give students the opportunity to complete written tasks and ultimately for those in appropriate year groups to potentially be invited to insight days at Bentley. Further modules in different work related subjects will be added later in 2020 and 2021.
Contact: future.talent@bentley.co.uk for more information