Airbus Apprentice Open Day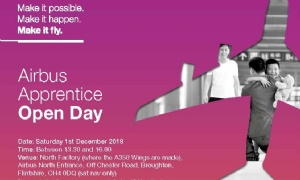 Airbus Apprentice Open Day! Discover how to get your career off to a flying start!
Airbus would like to invite students, teachers, parents and anyone interested in kick-starting their career with a Global leader to join them at their Apprentice Open Day!
Date: Saturday 1st December 2018
Time: 1:30pm – 4:00pm
Venue: North Factory (where they make the A350 wings!), Airbus North Entrance, off Chester Road, Broughton, Flintshire, CH4 0DQ.
For the first time ever, this year Airbus are hosting the event in their state-of-the-art-facilities in the A350 North Factory! Although the event location and name may have changed, one thing remains the same: that the Apprentice Open Day has been a tremendous success annually for 8 years running.
From exclusive site tours, gaming chairs and virtual reality activities to get involved with, attendees will be sure to have a fantastic time. On top of that, students will have the opportunity to speak with industry leading professionals, some of their major supply companies and their key education partners; who can provide all of the information imaginable about their Apprenticeship opportunities!
If you want to learn how an Airbus Apprenticeship can drive development and provide a clear route for a future career, then don't miss this opportunity!
No booking required, simply just show up!
For more information check out their Facebook Event page
More information can also be found at
http://company.airbus.com/careers/news-events/Apprentice-Day.html