Careers & Guidance
What is CEIAG?
CEIAG stands for Careers Education, Information and Guidance. It is the acronym used to describe any support and education which is provided to students which helps inform their next steps, whether that be a transition to the next phase of education (options at GCSE for example), decisions about post 16 education or training or indeed the choice of higher education, further education, apprenticeships or employment at the end of post 18 study.
how will it be delivered?
CEIAG will be delivered through two curriculum strands: firstly the PSHCE programme from Year 8-13 delivered by school staff and co-ordinated by the Citizenship and PHSCE co-ordinator for Years 7-11 and by the Sixth Form Team for Year 12 and 13, with additional input from impartial external providers and, secondly, through different curriculum areas whose courses include a strong vocational and work related learning element.
As students progress through Key Stages 3 and 4 they will be taught how to develop the knowledge, skills and attitudes to manage their own learning including: how to evaluate themselves honestly and realistically, how to set targets, make decisions, review and summarise their progress, present themselves effectively and make action plans which match their personal skills to abilities, interests and careers aspirations. From Year 8 onwards, some tutor time will be dedicated to logging these skills via a competency store in Unifrog.
All students in Years 10-13 have log ins to unifrog which is a universal platform giving students access to current and live information about University courses, careers and apprenticeships as well as support materials to help them create CV's, personal statements and action plans for the future https://www.unifrog.org/about
All students and parents can also access U-explore a free online digital platform where information can be found helping them to make more informed decisions about future study and career options.
Students will also receive impartial careers advice from a level 6 trained careers adviser, and, for a specific cohort, through Young Peoples' Services in Cheshire West and Chester.
unifrog
Unifrog
is an online tool to support with finding university and apprenticeship places. Students can easily find and apply for every course and apprenticeship in the UK – everything from university courses, to School Leaver Programmes, to Massive Open Online Courses. Our main aim to ensure that all of our students end up in the right destination for them and to be considering and planning for this throughout their time in school. Students can compare side-by-side every post-16 and post-18 opportunity in the UK. They can rank on lots of factors, like starting salary, distance from home, drop out rate, and weekly study hours. Students also use the tool from Year 8 upwards to log skills and experiences linked to employability through the competencies store.
changing education
Changing Education are an independent company who provide part of our provision around CEIAG. In the main, this involves supplying the school with a level 6 trained careers adviser who provides independent careers advice through 1:1 appointments with students mainly from Years 10-13 as they embark on significant career planning decisions. Students from Years 7-9 will also be offered appointments if required for support and engagement purposes. Our careers adviser will also be available for drop in appointments at futures evening events for years 9 and 11, where parents and students can request independent advice.
work experience
Work experience is offered to all students in Year 10 and 12. During the summer term, students will be expected to spend a week in employment, gaining experience and skills to support decision making and to inspire them with the opportunities they have. Students are requested to self place, but all risk assessments and administration (planning, employer liaison etc) will be completed by Changing Education and Queen's Park High School. Changing Education provide a database of employers in a wide range of sectors to support students with finding placements and both school and Changing Education will give more support to those who, despite their best efforts, have not been able to find an appropriate placement.
Careers linked to Curriculum Subjects - Gatsby 4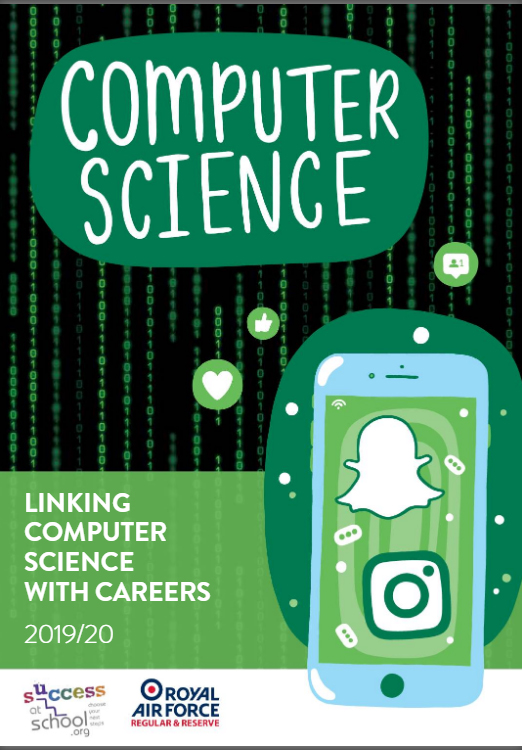 Computer Science
Linking Computer Science with careers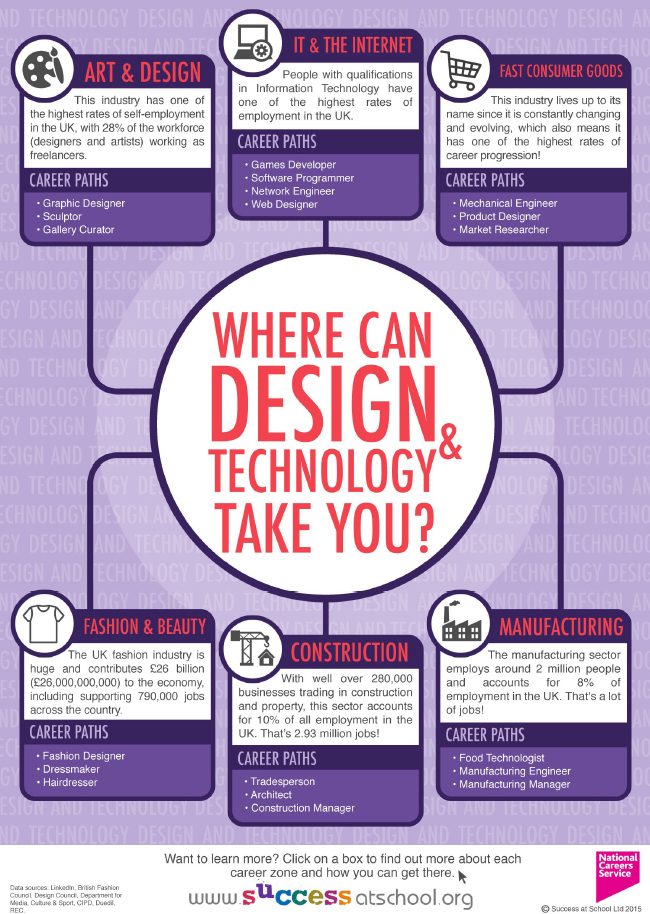 Design & Technology
Linking Design & Technology with careers
Career Pathways guide for parents & carers
Below are useful guides with reference to options, futures and pathways. Each parent guide can be viewed by clicking on the relevant image below:
With the support of their sponsor JP Morgan, Success at Schools are creating a guide to help parents and carers steer their children through the confusing world of careers choices. From university and apprenticeships to work experience and gap years, this guide has it all.
The full careers guide will be out next academic year - but an ebook preview version to help parents can be downloaded by visiting: Helping your child begin their career journey
​​​At QPHS CEIAG will also include:
Personal interviews at key transitional stages in Year 9, 11, 12 and 13
Enterprise activities in school
Visits to workplaces and local education providers
Guest speaker presentations from universities, training providers and apprenticeship schemes
Futures Conferences for Year 9 and 11 cohorts
Taster days in the Sixth Form and at FE college
University visits
Mock interviews
Access to careers events involving wide range of representatives from industry, public services and education providers (in school or through links within the MAT)
A range of vocational courses taught throughout KS4 and KS5 which develop knowledge about work related learning and careers in a range of sectors
Specialist work related programmes to support vulnerable and disadvantaged students.
Useful resources to support students explore careers, future options and pathways
| | |
| --- | --- |
| Post 16 options (National Careers Service) | website |
| Post 18 options (National Careers Service) | website |
| University Fairs & Virtual Events (Autumn Term 2020) | link |
| KS5 Summer Career Resource Pack 2020 | link |
| Future TalentED (website of useful on-line career magazines 2018/2019/2020) | link |
| icould (real stories to inspire your career & tools to support CV writing and revision planning) | website |
| Start careers for 11-18yrs (all students in KS3 & 4 will be using this platform) | website |
| Unifrog | website |
| U-explore | website |
| National Careers Service (includes a dedicated section for schools) | website |
| Apprenticeships (latest news & info on apprenticeships & schemes plus tips on how to apply) | website |
| Register & apply for current apprenticeships | website |
Key Staff: Mrs Watts is the member of staff with overall responsibility for co-ordinating Careers education and provision at QPHS. Email: a.watts@qphs.co.uk Tel. 01244 981500
Heads of Key Stage will support with advice, guidance and enrichment opportunities. In addition, individual career interviews and support can also be gained from Mrs Jane Conlon (Careers Adviser).Tutors will ensure that information linked to careers opportunities are shared, will set and monitor tasks on Unifrog (Sixth form) and CEIG is delivered as part of the tutor time programme and enrichment days.